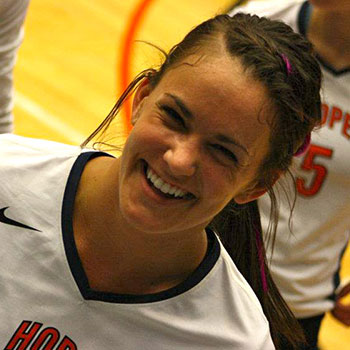 Marietta Schoolmaster
From Portage, Michigan

Class of 2015
Future Alma Mater:
Hope College
http://hope.edu

Independent Student of the Day
My name is Marietta Schoolmaster from Portage, Michigan. I am the youngest of four children to my parents Robert and Sara Schoolmaster, who still live in Portage! I am currently a senior at Hope College where I am a double major in Spanish and Elementary Education. I came to Hope College to pursue my passion for learning and playing volleyball. I have been a member of the Hope College volleyball team for the past four years, and a co-captain my junior and senior year. On top of playing volleyball at Hope, I have been able to pursue other passions while being a student! I have gotten the chance to help with teaching English as a second language (ESL) to community members, participate in "Dance Marathon," a fundraiser for Helen DeVos Children's Hospital in Grand Rapids, Michigan, and be an active member of the Student Athletic Advisory Committee for the Michigan Intercollegiate Athletic Association. I spent the Spring semester of my junior year studying abroad in Sevilla, Spain. I got the chance to take a full load of classes, teach English two days a week in a local primary school, and travel the world! The experience sparked my desire to one day teach abroad! When I am not in class or on the court playing volleyball, I love to coach volleyball! I am the assistant varsity volleyball coach at Hudsonville High School. I love spending time with family and friends. I like to visit the shores of Lake Michigan and enjoy a good book by the lake shore. I also enjoy riding my bike and being active outdoors!
My motivation
My family and friends truly motivate me. I love being able to celebrate my successes with them and make them all proud. My family has worked so hard to support me in everything I do, and that has allowed me to truly excel. Also, as a future teacher, my students motivate me. I think of all of the students I have worked with and all of the students I will meet in the future, and it motivates me to do more! I want to teach them how to love learning and be the best they can be. When I think of a classroom of new students, new children that I get to meet, that motivates me!
My latest accomplishments
At the end of the 2013-2014 school year, I was named Hope College's female student athlete of the year. This was an award given by the athletic department and entire coaching staff at Hope. This award is granted to a student athlete that excels in the classroom, on the court, and in the community. I was extremely honored to receive this honor.
Next big goal
Finish student teaching and receive full accreditation! I am currently student teaching in the West Ottawa School District. I have eight weeks in a high school Spanish classroom and then will spend eight weeks in a 5th grade Spanish immersion classroom. I want to successfully finish!
Why is choosing your own path important?
Choosing your own path means finding your true identity and purpose! I think by being able to choose your own path you are following your personal passions and loves. I think that when you choose your own path, you will find your true calling!
Favorite place on campus
The Pine Grove or DeVos Fieldhouse
Share this profile
View Previous Honorees
Nominate an Alum or Student