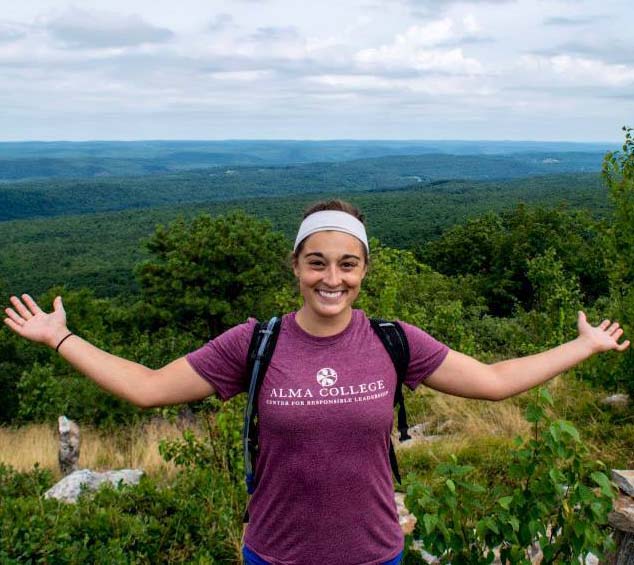 Ashley Esselink
Creative Director
Bachelors in New Media Studies
Class of 2014
Alma Mater:
Alma College
http://alma.edu

Independent Alum of the Day
Ashley Esselink graduated from Alma College in December 2014 with a degree in New Media Studies and a minor in writing. Originally, Ashley intended to study environmental sciences at Alma, but quickly changed her mind when she fell in love with the New Media Studies program.
While a student at Alma, Ashley was active in her community, both on Alma's campus and off. Ashley helped start a student-run production company, Bitworks, and served as Creative Director. She also worked as a teaching assistant, served on the yearbook staff, was a tutor in the writing center, and a member of Lambda Pi Eta, the national communication honorary. She also volunteered at Alma College as a water aerobics instructor for local senior citizens.
During her sophomore year, Ashley participated in Alma's off-campus study program in Philadelphia, PA. She paired two internships with her studies: one, at Iperdesign, a branding agency and the second with Deborah Boardman Photography. The following summer, she traded city living for life on a New Jersey farm among more than 150 animals, an experience and change of pace she was very thankful to have. Ashley also worked as a digital media intern in Alma's Marketing and Communication Department for three years. This paved the way for her last Alma internship at Greater Gratiot Development in Ithaca, Michigan. Being the first digital media intern at GGD, she was able to mold and shape the program for interns to come – a great growing and learning experience.
Ashley is currently working as the New Media Coordinator at Alma College and gearing up for her three-week trip to explore Italy. After which, she will begin the search for her dream career. Esselink hopes to one day have a career where she can advocate for the environment and use her creative talents to make a difference.
My motivation
My motivation for working hard and doing well comes from a drive to succeed and create something meaningful. I don't know exactly what it is that I will create; but it will be big, important, and change lives.
I am a doer—when I see something I want to do or make happen it is hard to stop me until it's done. I make an effort to surround myself with people who are willing to help me make my dreams a reality and who aren't afraid of a little work—as I often rely on my friends and family to help me through the adventure that is my life.
My latest accomplishments
My latest accomplishment lies somewhere between surviving my final semester at Alma College and graduating--not sure which one is more impressive yet!
Next big goal
I have three. My goal for a career is to find somewhere I can use my videography and photography skills to make a difference—especially if it is for an environmental agency like NOAA or NCSE.
Number two: Get a dog. There are few things that I want more than a loyal, loving, four-legged friend; but before I settle in on a life-long companion, I want to raise a service dog. I recently signed up with Leader Dogs for the Blind, and I can not wait to get my puppy and raise it for someone who needs him/her.
Three: Learn American Sign Language. My fourth grade classroom had several students who had learned a significant amount of sign language from a teacher the year before. Ever since then I have been fascinated by it and had the burning desire to pick up the language. The classes have never fit into my schedule, but I sincerely hope that I will have time to take lessons and learn the language over the next few years!
Favorite place on campus
The Backroom is probably my favorite place. It is a secret (not so secret) New Media Studies lounge.
Share this profile
View Previous Honorees
Nominate an Alum or Student