Something went wrong: cURL error 60: SSL certificate problem: certificate has expired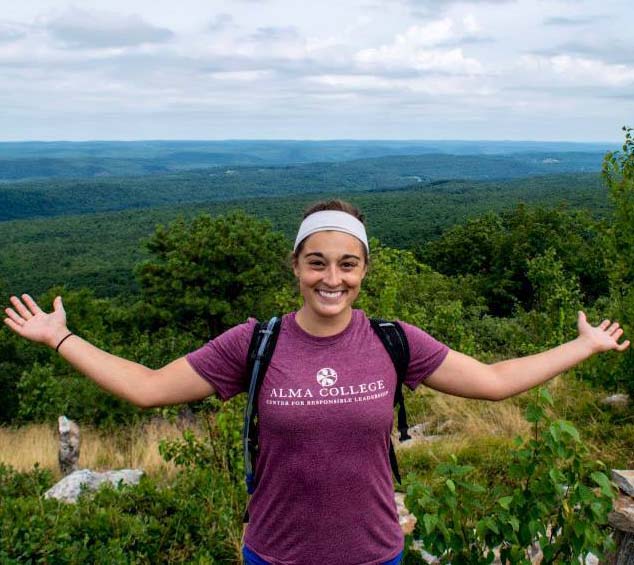 Ashley Esselink
Creative Director
Bachelors in New Media Studies
Class of 2014
Independent Alum of the Day
Ashley Esselink graduated from Alma College in December 2014 with a degree in New Media Studies and a minor in writing. Originally, Ashley intended to study environmental sciences at Alma, but quickly changed her mind when she fell in love with the New Media Studies program.
While a student at Alma, Ashley was active in her community, both on Alma's campus and off. Ashley helped start a student-run production company, Bitworks, and served as Creative Director. She also worked as a teaching assistant, served on the yearbook staff, was a tutor in the writing center, and a member of Lambda Pi Eta, the national communication honorary. She also volunteered at Alma College as a water aerobics instructor for local senior citizens.
During her sophomore year, Ashley participated in Alma's off-campus study program in Philadelphia, PA. She paired two internships with her studies: one, at Iperdesign, a branding agency and the second with Deborah Boardman Photography. The following summer, she traded city living for life on a New Jersey farm among more than 150 animals, an experience and change of pace she was very thankful to have. Ashley also worked as a digital media intern in Alma's Marketing and Communication Department for three years. This paved the way for her last Alma internship at Greater Gratiot Development in Ithaca, Michigan. Being the first digital media intern at GGD, she was able to mold and shape the program for interns to come – a great growing and learning experience.
Ashley is currently working as the New Media Coordinator at Alma College and gearing up for her three-week trip to explore Italy. After which, she will begin the search for her dream career. Esselink hopes to one day have a career where she can advocate for the environment and use her creative talents to make a difference.
Share this profile
View Previous Honorees
Nominate an Alum or Student

Warning: Invalid argument supplied for foreach() in /app/public/wp-content/themes/mca/sidebar.php on line 69


Warning: Invalid argument supplied for foreach() in /app/public/wp-content/themes/mca/sidebar.php on line 91