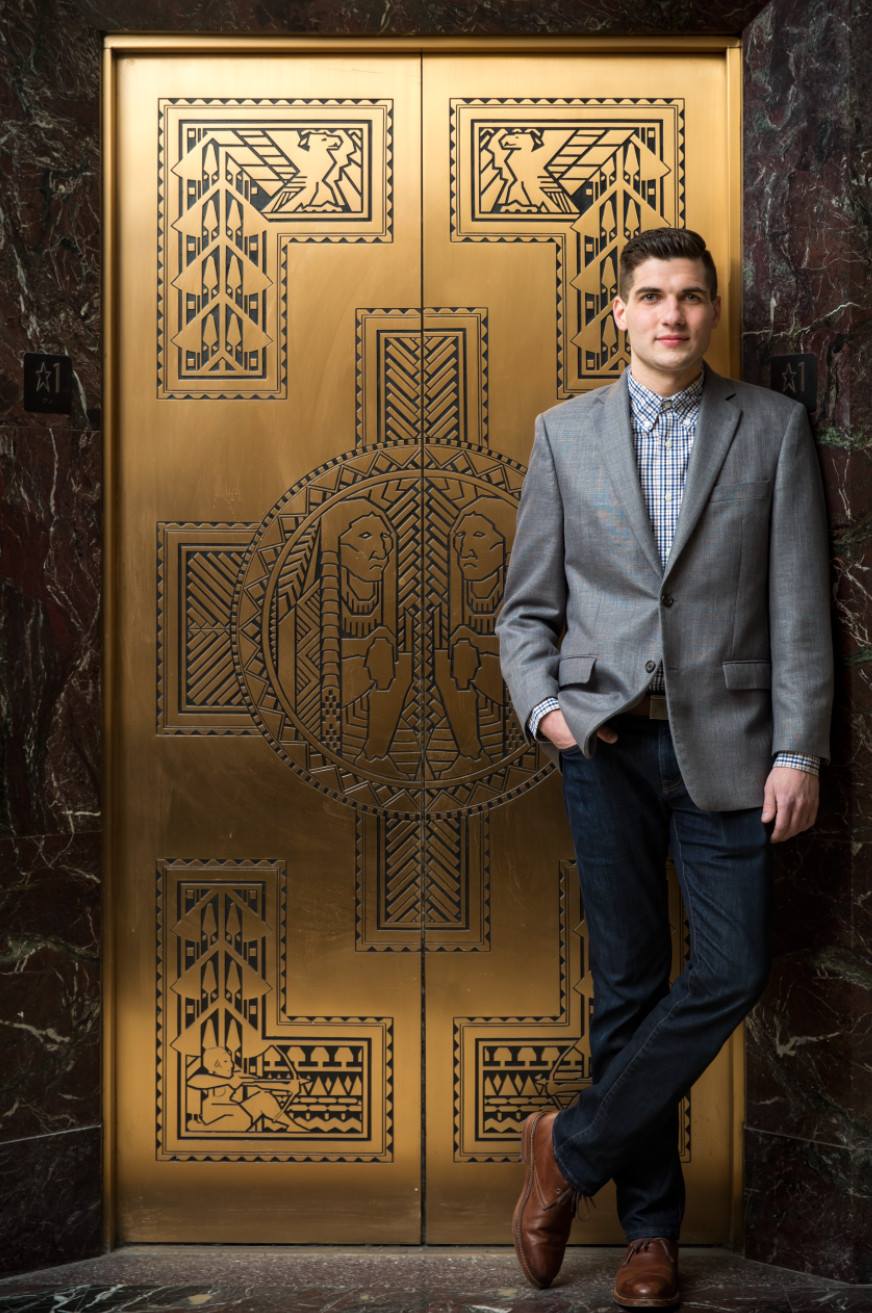 Cody Bailey
Founder, CEO & Creative Director
BA Political Science
Class of 2012
Alma Mater:
Albion College
http://albion.edu

Independent Alum of the Day
Cody Bailey is an innovative young leader who founded HUSH Entertainment Group in the spring of 2013, and has led the company through numerous expansions and periods of growth; seeing it go from a seasonal attraction grossing $62,000, to a year-round entertainment facility grossing $782,000 in the most recent 12 months.
Until the fall of 2016, Cody maintained a full-time career as the Director of Outreach for current United States Education Secretary Betsy Devos' education advocacy organization, the Great Lakes Education Project (GLEP). In his capacity at GLEP, Cody was tasked with developing a statewide advocacy/outreach program to support the organization's mission.
Additionally, Cody served as an operations consultant for Sparks Auto Service and Towing during their successful expansion, where he led a significant cost reduction plan. Cody also maintains ownership stakes in two property holdings corporations where he serves as managing partner, overseeing combined assets in excess of $2.5 million.
Cody holds a Bachelor of Arts degree in political science from Albion College. He is a member of the International Association of Amusement Parks & Attractions (IAAPA), the Roller Skating Association, Westland Chamber of Commerce, and Albion's Sigma Nu Fraternity. He was formerly a founding board member of Taylor Preparatory Academy Charter School Board where he served his entire tenure as board president. Cody also completed the IAAPA FEC Rookies program in 2016, participated in the NEAAPA Spring Leadership Training program in May of 2017, and maximizes IAAPA membership by participating in professional development webinars throughout the year. He also recently completed the Goldman Sachs 10,000 Small Businesses education program.
My motivation
I am driven by several things. First is the passion my team and I share for the work we do. Second is the mission behind why I started HUSH Entertainment Group, which is to produce highly-themed and immersive entertainment at an affordable, local level for everyone to enjoy. Growing up I had the opportunity to expereience Disney and Universal Studios yearly, sometimes more, and I believe everyone deserves the chance to be transported to new worlds, escape reality and create happy memories together to last a lifetime.
My latest accomplishments
I was very fortunate to be named by Crain's Detroit Business as one of their 2018 'Twenty in their 20's'.
I also recently took part in the Goldman Sachs 10,000 Small Businesses program, which is a 15 week intensive MBA like education program for business owners. This program gave me the opportunity to work and learn alongside fellow entreperneurs of all types, expand my outlook and dream bigger as I look towards expansion.
Next big goal
I am currently working on redeveloping the Roller Skating Center I purchased in 2015 into a multi-attraction, modern family entertainment center hued towards an adult audience with boutique bowling, a large arcade, highly-themed laser tag course, and a full restaurant with a bar.
Why is choosing your own path important?
Choosing your own path means you're following your dreams, and risking everything to do what YOU want, rather than what's easy and comfortable. It's the spirit that drives innovation, that leads people to strive to create more, dream more and in the end, do more. I'm an avid reader and absolutely love Simon Sinek's work, I think we all need to "start with the why," why are we doing what we do, what's our life's mission? When you begin to answer those questions, and live the life you want to live, happiness happens.
Favorite place on campus
The Nature Center/Canoeing Area
Share this profile
View Previous Honorees
Nominate an Alum or Student