Something went wrong: cURL error 60: SSL certificate problem: certificate has expired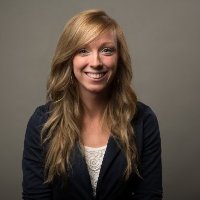 Courtney Porte
Employment Specialist
Bachelor of Arts in Communication and Minor in Organizational Leadership
Class of 2012
Independent Alum of the Day
Courtney Porte coaches marginalized individuals on how to gain self-sufficiency and independence. As an employment specialist at Goodwill Industries of Greater Grand Rapids, she works one-on-one with people facing barriers to employment; guiding them on how to find and maintain long-term, competitive careers.
Courtney attended Hope College where she majored in Communications and minored in Organizational Leadership. While completing her undergraduate degree, she studied abroad for one year in Bendigo, Victoria – a small city quite literally "in the bush" of Australia. While there she completed courses in Outdoor Leadership and Organizational Development as well as an internship with a national business coaching company, 10X Ltd., where she gained an understanding of business coaching practices that led her to her current position at Goodwill Industries.
Both Courtney and her husband feel called to serve disadvantaged populations not only through their careers, but their lifestyle as well. In August of 2014 they moved to a marginalized neighborhood on the west side of Grand Rapids to help bridge the gap between the streets of inner-city Grand Rapids and the Christian church.
Courtney and her husband are also connected with a local non-profit, Bridge Street House of Prayer, in which Courtney volunteers weekly at a free coffee shop that acts as a place of safety and refuge for people on the west side.
Share this profile
View Previous Honorees
Nominate an Alum or Student

Warning: Invalid argument supplied for foreach() in /app/public/wp-content/themes/mca/sidebar.php on line 69


Warning: Invalid argument supplied for foreach() in /app/public/wp-content/themes/mca/sidebar.php on line 91