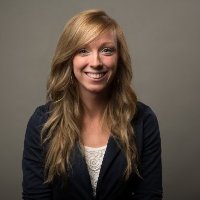 Courtney Porte
Employment Specialist
Bachelor of Arts in Communication and Minor in Organizational Leadership
Class of 2012
Alma Mater:
Hope College
http://hope.edu

Independent Alum of the Day
Courtney Porte coaches marginalized individuals on how to gain self-sufficiency and independence. As an employment specialist at Goodwill Industries of Greater Grand Rapids, she works one-on-one with people facing barriers to employment; guiding them on how to find and maintain long-term, competitive careers.
Courtney attended Hope College where she majored in Communications and minored in Organizational Leadership. While completing her undergraduate degree, she studied abroad for one year in Bendigo, Victoria – a small city quite literally "in the bush" of Australia. While there she completed courses in Outdoor Leadership and Organizational Development as well as an internship with a national business coaching company, 10X Ltd., where she gained an understanding of business coaching practices that led her to her current position at Goodwill Industries.
Both Courtney and her husband feel called to serve disadvantaged populations not only through their careers, but their lifestyle as well. In August of 2014 they moved to a marginalized neighborhood on the west side of Grand Rapids to help bridge the gap between the streets of inner-city Grand Rapids and the Christian church.
Courtney and her husband are also connected with a local non-profit, Bridge Street House of Prayer, in which Courtney volunteers weekly at a free coffee shop that acts as a place of safety and refuge for people on the west side.
My motivation
At work I am motivated when the individuals I work with have the light bulb moment in which they realize that they are much more capable of independence and success than they originally thought; and they realize that they are no longer just a victim to their own situation, but rather they are the key to the solution.
My latest accomplishments
After feeling convicted about how to ensure long-term change in the lives of the individuals I coach at work, I began a weekly prayer group outside of office hours with fellow co-workers in which we intercede on behalf of the program participants that we serve, acknowledging that many of their barriers are beyond our ability to fix and that employment is only part of the bigger solution.
Next big goal
Relationship Development - both at work and in my neighborhood. With the work I do, the better rapport I have with the individuals I coach, the more effective I can be. Simliarly in my neighborhood, our ability to help and understand our neighbors is only as strong as the relationships we have with them.
Why is choosing your own path important?
If you find yourself in a situation in which you are privileged enough to even get to choose your own path, then my gosh don't waste that opportunity. Most of the people I work with and who are in my neighborhood face barriers that are so significant that they will never be able to choose their own path as far as career, lifestyle, living location, etc. The fact that this is even a question we get to grapple with and dream about is extremely humbling. So choosing your own path is very important, if nothing else because so few people have the opportunity to even do so.
Favorite place on campus
The sidewalk near Hope's soccer stadium (because that is where my now-husband asked me to be his girlfriend.)
Share this profile
View Previous Honorees
Nominate an Alum or Student