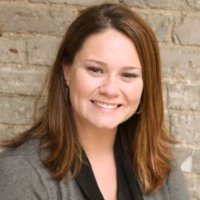 Emma Powell
Nonprofit Executive/College Educator
BSBA
Class of 2001
Alma Mater:
Aquinas College
http://aquinas.edu

Independent Alum of the Day
Emma Powell is a doctoral student of the School of Public Affairs and Administration, Western Michigan University. She was granted the school's Doctoral Scholar Award in 2013 as a result of her professional career in nonprofit leadership and her research interest in the relationship between local nonprofit organizations and their headquarter decision making bodies. She now serves as Instructor at Western Michigan University in Kalamazoo, MI and adjunct faculty at Aquinas College based in Grand Rapids, MI. She has earned a Bachelor of Science in Business Administration and Master of Management degree from Aquinas College and has over a decade of experience in nonprofit leadership, volunteerism, fund development and board relations.
Emma is a wife to Rob Powell of 12 years and mother of her two children, Samuel (age 9) and Marilyn Jo (age 5). While her professional career has allowed her the opportunity to teach at Aquinas College, her alma mater, she has also enjoyed multiple roles since her undergraduate graduation at Aquinas College. She has served as head cheer coach for the college, taking the team/program to their first national competition in Florida and now serves on the Alumni Leadership Council as President. She is a self-proclaimed Aquinas Saint, through and through!
My motivation
Progress motivates me. Seeing small steps toward completion helps justify the work. Additionally, helping others identify their successes is crucial for me.
My latest accomplishments
Accepting the role as Alumni Leadership Council President.
Next big goal
Completing my PhD work and dissertation requirements from Western Michigan University.
Why is choosing your own path important?
Identifying your own path is critical. The only way to live your life is through your own eyes. Solid in your determination and open in your willingness to learn, we require flexibility to grow in the life we have been blessed with but strength in our personal conviction to ground ourselves in our purpose. Our personal choices develop a path that allows our own passion to lead the way. If we allow others to set our trajectory we will find a path that is less than ideal or mediocre compared to the life we were designed to live.
Favorite place on campus
Holmdene
Share this profile
View Previous Honorees
Nominate an Alum or Student