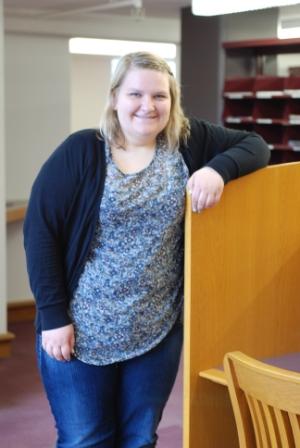 Helen Macqueen
Student

Class of 2014
Alma Mater:
The University of Olivet
http://www.olivetcollege.edu

Independent Alum of the Day
Helen MacQueen is a 2014 alumna of Olivet College and current master's student at George Washington University in Washington, D.C. As a sociology and anthropolgy major with a history minor at Olivet, Helen was able to pursue independent studies on topics of interest, which prepared her for her graduate program and allowed her to follow her passions, while also working closely with her professor.
In partnership with Associate Professor of Sociology and Anthropology, Cynthia Noyes, Helen was able to dive deeper into Museum Studies. She worked with Noyes to develop two one-on-one classes of great interest to her – Museums: Issues and Exhibits and Museums: Problems and Possibilities.
My latest accomplishments
In August, Macqueen began her master's program in museum studies at George Washington University in Washington, D.C. She credits her independent study with associate professor of sociology/anthrolopology Cynthia Noyes for helping her get into graduate school. "Throughout our classes together we discussed different aspects of museums and the problems they face. Being aware of these issues helped me to be better prepared when it came to writing my applications and going through interviews."
Next big goal
When she completes her master's program, Macqueen plans to pursue a career in one of the many Smithsonian museums.
Why is choosing your own path important?
"While the majority of students who declare a social science major want to work in the helping professions, some are interested in different aspects of society and culture," Cynthia Noyes said. "These students are usually very motivated, good students, who want to pursue some particular line of research, like Helen." Helen chose to independently study coursework that interested her, following her passion and intellectual curiosity.
Share this profile
View Previous Honorees
Nominate an Alum or Student