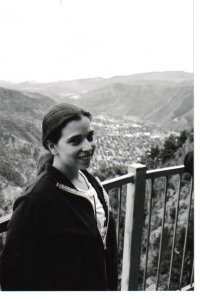 Janelle Hill
Community Engagement Coordinator
Sociology and English
Class of 1999
Alma Mater:
Aquinas College
http://aquinas.edu

Independent Alum of the Day
Janelle (Burden) Hill grew up on Michigan's East Side, attending Royal Oak's Dondero High School. Inspired by her parents' active involvement in PTA, Scouts and the local library, she participated in a variety of leadership activities including Student Senate, Drama Club and National Honor Society.
She moved to the West Side to attend Aquinas College and continued her involvement in student activities, serving as a Resident Assistant and Student Senator, and working in the Campus Ministry Office, focusing on Service Learning.
Janelle initially planned to be a high school English teacher until one of her education classes led her to a placement at a home for abused and neglected children. She changed her major to Sociology and decided to pursue a career in social work. Her internship led her to Arbor Circle's Homeless Youth Services (HYS) program. Shortly after graduation, she was hired as an HYS case manager.
Fifteen years later, Janelle continues her work with Arbor Circle. Over the years she's coordinated a mentoring program, managed agency volunteers, developed a youth community service program and led employment and education services for youth. She now serves as the Community Engagement Coordinator, a role which allows her to introduce community members to Arbor Circle and the broader issues that the agency is tackling.
In addition to her work with Arbor Circle, Janelle has been involved in the Grand Rapids community in a variety of ways including volunteering with the children's grief program at Gilda's Club and providing guest services at the Grand Rapids Art Museum. She has participated in numerous service projects with the Grand Rapids Young Professionals (GRYP) and Center for Inquiry (CFI). She is a founding member of the Kent County Mentoring Collaborative and a graduate of the Center for Community Leadership's Leadership Grand Rapids and Leadership Advantage programs.
Janelle is a proud Aquinas Faithful Saint serving on the Community Leadership Advisory Board and as an Aquinas Alumni Ambassador.
My motivation
I'm motivated by helping people to discover their individual strengths, and encouraging them to utilize those strengths to contribute to our broader community.
My latest accomplishments
My latest accomplishment was becoming a mom to my son Beckett.
Next big goal
Professionally, I want to engage more community members in the mission of Arbor Circle in order to tackle important community issues, particularly youth homelessness and mental health stigma.
Personally, I am working to create a stronger neighborhood for my family by engaging more directly in our libraries, parks, schools and neighborhood association.
Why is choosing your own path important?
If I'm genuinely passionate about the direction I'm headed then I'm much more motivated to stick with it when challenges arise, and I'm much more likely to be able to inspire others to come along on the journey with me.
Favorite place on campus
Holmdene Gardens
Share this profile
View Previous Honorees
Nominate an Alum or Student