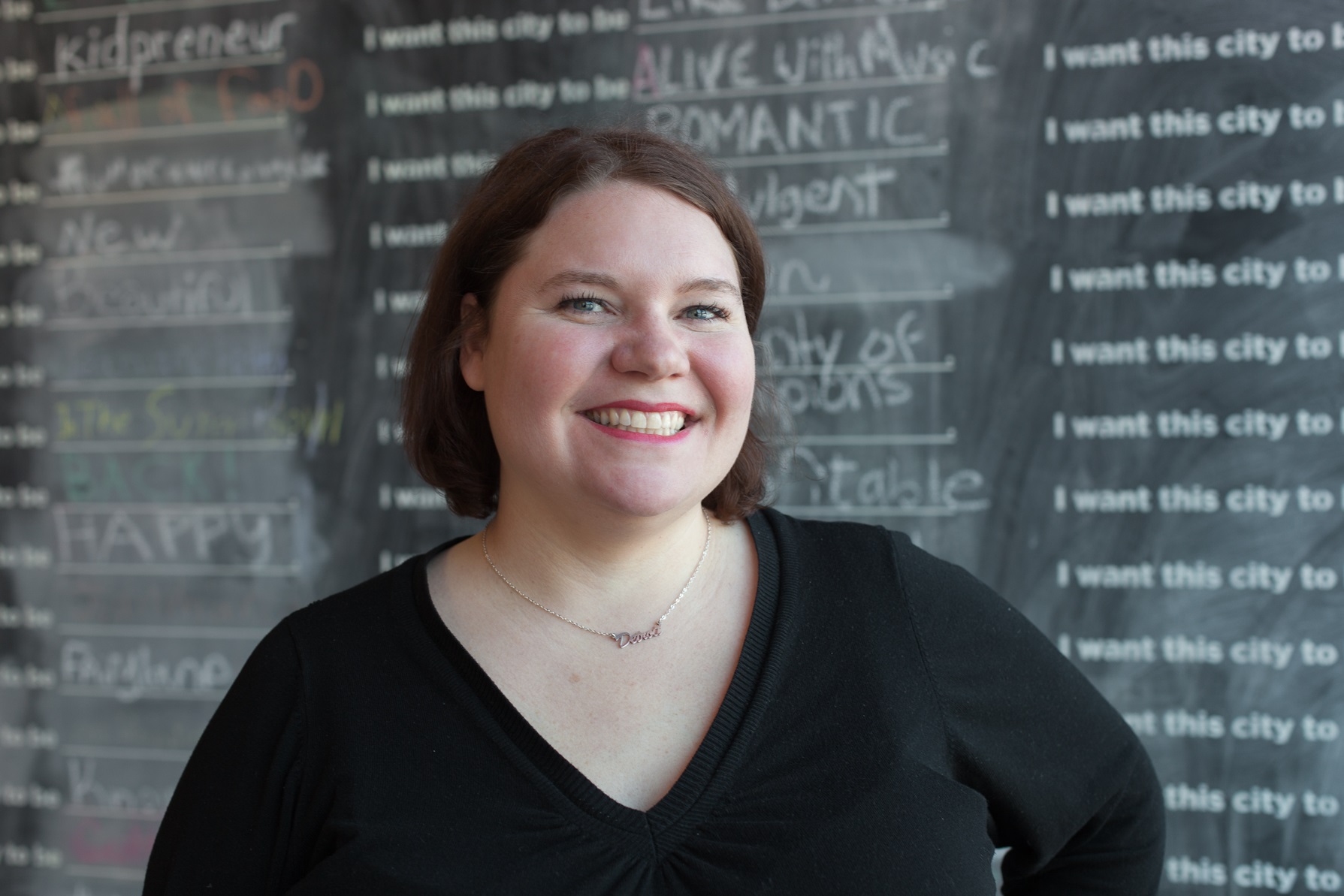 Jeanette Pierce
Non Profit Executive
Communication
Class of 2004
Alma Mater:
Aquinas College
http://aquinas.edu

Independent Alum of the Day
Jeanette Pierce is a social entrepreneur and lifelong city resident who grew up in the Morningside neighborhood on the east side of Detroit. She earned her Bachelor of Arts in Communication from Aquinas College, and has been walking to work since she moved to downtown Detroit in 2003, which is mostly unheard of in the Motor City.
In 2006, while working at United Way for Southeastern Michigan, Jeanette founded a grassroots nonprofit that used tours and experiences to take people beyond the headlines and educate them about Detroit's history, culture and community. Today, that organization has evolved into the Detroit Experience Factory which operates the only Detroit Welcome Center and creates eye-opening experiences and innovative resources that connect locals and visitors to Detroit's people, places and projects. Over 85,000 people have taken a tour in the last 11 years to learn about Detroit's assets, small businesses, historic neighborhoods, city planning and development policies and innovative solutions to the challenges the city faces.
She has presented at more than 100 events including the Downtown Las Vegas Alliance's Annual Meeting, The City of Chicago's Neighborhood Organization Workshop and the International Downtown Association's Urban District Forum. Jeanette was recognized by Crain's Detroit Business as a Twenty in their 20's leader, and was awarded the Shining Light Future Leader Award from the Detroit Free Press, Shooting Star Award from MichBusiness and the Vanguard Award from Detroit Young Professionals.
My motivation
Graduating from Aquinas College, I finally knew what I wanted...and what I didn't. I didn't want to just coast through life on autopilot. I wanted to not just have a job but have an impact. I wanted to be a part of something bigger and know my neighbors and have a sense of community. That's what I found in Detroit and that's what motivates me everyday... to have a postive impact on those around me.
My latest accomplishments
Celebrating 11 years of my organization which included hiring my 8th full-time staff and 30th part-time staff and having taken 85,000 people around the city. For something that many thought was a crazy idea that would never work, to have continue to grow and grow and reach these numbers is pretty amazing!
Next big goal
My goal by 2018 is to have taken 100,000 people around the city of Detroit and have 10 full-time staff and 35-part time. I especially want to work with public schools to create Detroit Study Tours that use Detroit to help teach our children subjects like history, art, entrepreneurship, STEM and more.
Why is choosing your own path important?
Choosing my own path was important to me because I didn't want to have a status quo life. I didn't want to take the path of least resistance. I wanted to be awake everyday instead of going through the motions and waking up at 40 wondering what happened to the last 20 years. That choice began with Aquinas College. Being able to feel connected to teachers, classmates, administrators instead of just being another face in the crowd. It's continued with creating a life I love in Detroit... because what I've realized is that Detroit is big enough to matter in the world, but small enough for you to matter in it... and that makes all the difference.
Favorite place on campus
The Moose Cafe
Share this profile
View Previous Honorees
Nominate an Alum or Student