Something went wrong: cURL error 60: SSL certificate problem: certificate has expired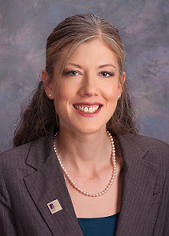 Jennifer McNabb
University Professor
B.A. - History
Class of 1994
Independent Alum of the Day
Jennifer McNabb is a Professor in the Department of History at Western Illinois University. She has been a member of the WIU faculty since 2005 and recently completed a two-year appointment as the Associate Director of WIU's Centennial Honors College. Jennifer has served as Chair of WIU's University Graduate Council and Vice Chair of the Faculty Senate, in addition to leadership roles on various departmental and University committees.
Jennifer earned a B.A. in History from Adrian College and was named as the 2012 recipient of Adrian's Distinguished Young Alumni Award. She received an M.A. in History from Bowling Green State University and a Ph.D. in History from the University of Colorado at Boulder with a specialty in the history of early modern England.
Jennifer is an active teacher-scholar. Her research on courtship and marriage in sixteenth- and seventeenth-century England has yielded publications in academic journals as well as presentations at national and international conferences. She has won both best paper prizes awarded by the Rocky Mountain Medieval and Renaissance Association and is President-Elect of that professional organization. Jennifer is also a member of the Executive Committee of the Midwest Conference on British Studies. She regularly presents her work to the local and regional community through the WIU Department of History Annual History Conference, the WIU Learning is Forever (LIFE) Program, the DuPage Valley Social Studies Conference, and the annual meeting of the Friends of the Macomb Public Library. She served as the Texts and Teaching Editor of the journal Quidditas for five years and currently acts as the journal's Associate Editor. She has also authored textbook supplements for Cengage.
Jennifer's teaching and service have been honored with a number of awards. In 2009, she received both the WIU Provost's Award for Excellence in Teaching and the WIU College of Arts and Sciences Outstanding Teaching Award, and in 2012 she received both the WIU Provost's Award for Excellence in University/Community Service and the WIU College of Arts and Sciences Outstanding Service Award. Jennifer served for five years as faculty advisor for the Associated Students of History, which won the College of Arts and Sciences Student Council Departmental Organization Recognition Award in 2009, and was named Greek Life Advisor of the Year in 2010 and 2014 for her work with the Alpha Epsilon chapter of Alpha Sigma Tau Sorority. In 2014 Alpha Sigma Tau named Jennifer the recipient of the Helen R. Garman Award, the Sorority's highest advisor honor, and she was named the National Historian of Alpha Sigma Alpha.
Share this profile
View Previous Honorees
Nominate an Alum or Student