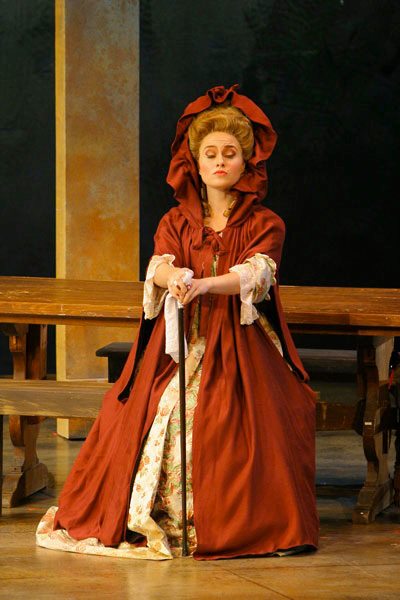 Kristen Dubenion-Smith
Musician
Bachelor in Music
Class of 2002
Alma Mater:
Alma College
http://alma.edu

Independent Alum of the Day
Praised for her "plush" voice by the Baltimore Sun and voice of "sweet clarity" by the Pittsburgh Post-Gazette, mezzo-soprano Kristen Dubenion-Smith enjoys an active performing career in oratorio, opera and sacred vocal chamber music, particularly specializing in music of the medieval, renaissance and baroque eras.
Recent notable engagements include performances with The Folger Consort, Apollo's Fire, The Mark Morris Dance Group, the Washington Bach Consort, Cathedra and The Bach in Baltimore Concert Series. Ms. Dubenion-Smith has also performed concerts with various ensembles at the Boston Early Music Festival, the Berkeley Early Music Exhibition, the Indianapolis Early Music Festival and the Washington Early Music Festival.
Ms. Dubenion-Smith's operatic career spans more than a dozen opera roles performed throughout the United States. Some of her more notable roles have included Endimione in La Calisto, Hecuba in La Didone and Cupid in Venus and Adonis with American Opera Theater, Humility in Ordo Virtutum with the Peabody Early Music Department, Hansel in Hansel and Gretel with Peabody Opera Outreach and La Baronne in Chérubin with New Jersey Opera Theater.
Ms. Dubenion-Smith also has a keen interest in contemporary music. She has had the privilege of working with The Evolution Contemporary Music Series the past four seasons where she has performed works such as David Lang's Pulitzer Prize winning piece The Little Match Girl Passion as well as Peter Lieberson's Neruda Songs and works by Arvo Pärt. Most recently, Ms. Dubenion-Smith performed, for the composers, selections from the chamber opera Song from the Uproar, song cycle Taking Turns in my Skin, selections from Penelope and premiered Book of the Lake by NYC based composers, Missy Mazzoli, Sarah Kirkland Snider and Daniel Davis.
Originally from Michigan, Ms. Dubenion-Smith graduated from Alma College before moving to Baltimore to complete her studies in voice at the Peabody Institute. Now residing in Washington D.C., Kristen co-founded the award winning medieval ensemble, Eya, in 2010. Eya is a unique ensemble seeking to refresh and invigorate the interpretation and performance of medieval music for women.
Ms. Dubenion-Smith also serves as cantor at the Washington National Cathedral and has recordings on Bard and Gothic labels.
Notable solo engagements of 2014-2015 include concerts with: Eya Medieval Ensemble, The Washington Bach Consort, The Evolution Contemporary Music Series, the Bach in Baltimore Concert Series and a national tour with Apollo's Fire performing the Monteverdi Vespers. Kristen will also be performing Dowland's A Pilgirm's Solace with lutenist Richard Stone in the spring of 2015.
My motivation
Being the best that I can be. Living up to my potential and never giving up, no matter how difficult the path. Starting a career in music was not easy but I see how far I've come since grad school and that motivates me to be better every single day. Plus, my husband is my biggest fan and supporter and I want to make a good life for him and our soon to be child! Being able to share my gift daily with my unborn child moves me to tears almost every time I open my mouth to sing. He or she has a front row seat to every concert!
My latest accomplishments
I'm currrently on a national tour with Apollo's Fire performing the 1610 Monteverdi Vespers.
Next big goal
Having my first child in January 2015!!!
Why is choosing your own path important?
I didn't choose the easy path. I didn't choose the 9-5 job. I didn't choose a stable income. I didn't chose a predictable schedule. I chose the path that, while risky, was the most fullfilling path I could have ever chosen. The only thing I ever wanted to do was sing and be a mom and now I almost have both! I believe in following your heart no matter how bumpy the road. If you put your everything into it, how can you fail?
Share this profile
View Previous Honorees
Nominate an Alum or Student