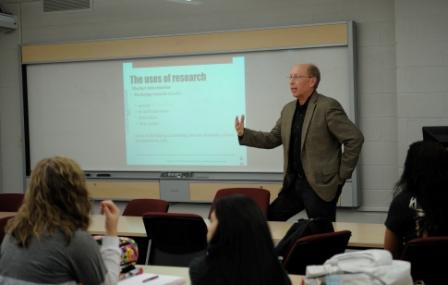 Michael Oyster
Executive-in-Residence

Class of 1977
Alma Mater:
The University of Olivet
http://www.olivetcollege.edu

Independent Alum of the Day
Michael Oyster, a 1977 Olivet College alumnus, led a storied career before returning to his alma mater to serve as its executive-in-residence in 2012.
As a former CEO of publicly traded and private companies, a multinational corporate executive and entrepreneur, Oyster brings a wealth of experience to the college's Business Administration Department.
Oyster is responsible for teaching courses, leading the Phi Beta Lambda honor society for business majors and minors, and working to increase experiential learning opportunities for Olivet's business students.
He earned his Master of Science in management at Purdue University's Krannert School of Business, and completed the Executive Program for International Management at the University of Pittsburgh's Katz's School of Business, as well as the AT&T Leadership Development Program at the Massachusetts Institute of Technology.
My motivation
I thrive on seeing others achieve their goals, passions and dreams. Investing in others' achievements is key to individual fulfillment and hones your own skills and abilities as a leader. The students at Olivet College are fantastic. They have dreams that will be achieved, and providing the catalyst for their ideas to be built on is what teaching and leading is all about.

Olivet College invested in me the same way. Not knowing what the future would hold, Olivet faculty and administrators invested in me individually, as they do in every student, with support, knowledge and the opportunities to succeed in life.
My latest accomplishments
I was a business guy. I worked for AT&T, the world's largest corporation at the time, for 20 years. I worked for mid-size businesses, both established and start-ups, and experienced all facets of the business world including helping them through IPOs and significant financing transactions. I built and ran a small software company and became the CEO of a public corporation, becoming experienced in mergers and acquisitions as well as corporate restructuring. Finally, I started my own company as an entrepreneur, making use of the learning and relationships gained throughout my career.

It's that corporate and entrepreneurial experience that prepared me for my most recent venture: teaching.
Next big goal
To share with students the important skills of becoming an effective and successful business leader.
Why is choosing your own path important?
Life is not a free ride, but life is also not a solo journey. We all need mentors to help us grow, learn and achieve. I like to have fun in whatever I am doing, and I am serious when it is important. I am all about the end result – not stuck on a single path to get to the goal, but rather, I am flexible to a student's personal pathway to achievement.

Work hard, be confident, ask questions, discuss and share with others, and engage. It might not always be apparent how the pieces connect, but they all do lead to a better understanding.
Share this profile
View Previous Honorees
Nominate an Alum or Student