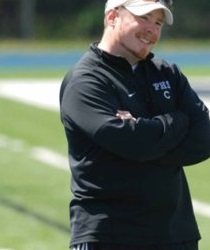 Mike Bona
Youth and High School Soccer Coach
Elementary Education
Class of 2000
Alma Mater:
Hope College
http://hope.edu

Independent Alum of the Day
Mike Bona was a successful soccer player for Franklin High School, the Livonia Soccer Club and at Schoolcraft College before transferring to Hope College. Mike graduated in 2000 from Hope with a degree in elementary education.
While a student at Hope, Mike discovered his passion for education and he continues to have a great enthusiasm for it, especially for teaching students in non-traditional settings and ways. Following graduation, Mike taught at Lakota Sioux Elementary on South Dakota's Rosebud Reservation. He then combined his two passions – education and soccer – and began coaching the Holland, MI premier soccer club, substitute teaching and leading early childhood soccer classes and home-based gym classes.
Mike's next steps involved moves to Rochester, Minnesota where he helped launch the Dover-Eyota High School Girls Soccer Program and then to Orlando, Florida where he moved into a management position at RDV Sportsplex Athletic Club, while still providing private soccer lessons.
Mike's experiences eventually led him back to Michigan (and even to his old neighborhood). He began collaborating with his former high school coach and the Michigan Rush Soccer Club where he helped operate the club's Junior Academy Program. Mike also resumed coaching high school soccer with Ann Arbor Pioneer High School and later became an assistant coach for the nationally recognized Schoolcraft College Men's program. Concurrently, he initiated the integration of other youth clubs into his childhood club (at Livonia Franklin High School).
Presently, Mike is a staff coach on the LSC premier teams (formerly AC Milan Detroit), which provided the opportunity for him to visit and study the game in Milan, Italy with AC Milan's Youth Program. One of the highlights of that trip was meeting soccer legend, Paolo Maldini. He is also head varsity coach for the boys' soccer program at Livonia Franklin High School (his high school alma mater).
My motivation
I love seeing the growth of the kids I work with, both on the field and in life. It is nice to see former players doing well on the field at the college level and seeing the accomplishments and success they've found off the field as quailty young adults.
My latest accomplishments
One of my latest accomplishments was working as an Men's Soccer Assistant Coach at Schoolcraft Community College and advancing onto the NJCAA (National Junior College Athletic Association) D1 National Tournament.
Next big goal
My next big goal is to continue to help develop players to advance as student athletes to the collegiate level. Athletics and education go hand in hand to lead players on the path to success at all levels.
Why is choosing your own path important?
Choosing your own path in life is what leads you to personal success. My grandfather would always remind us to "be happy and have fun." This is something I try to bring into my everyday life. If you are happy and enjoying what you are doing, you'll put everything you have into whatever it is, which often leads to success and being in the right spot at the right time.
Favorite place on campus
Kletz Snack Bar - which is a great place to grab a bite to eat, hangout with friends, and study.
Share this profile
View Previous Honorees
Nominate an Alum or Student