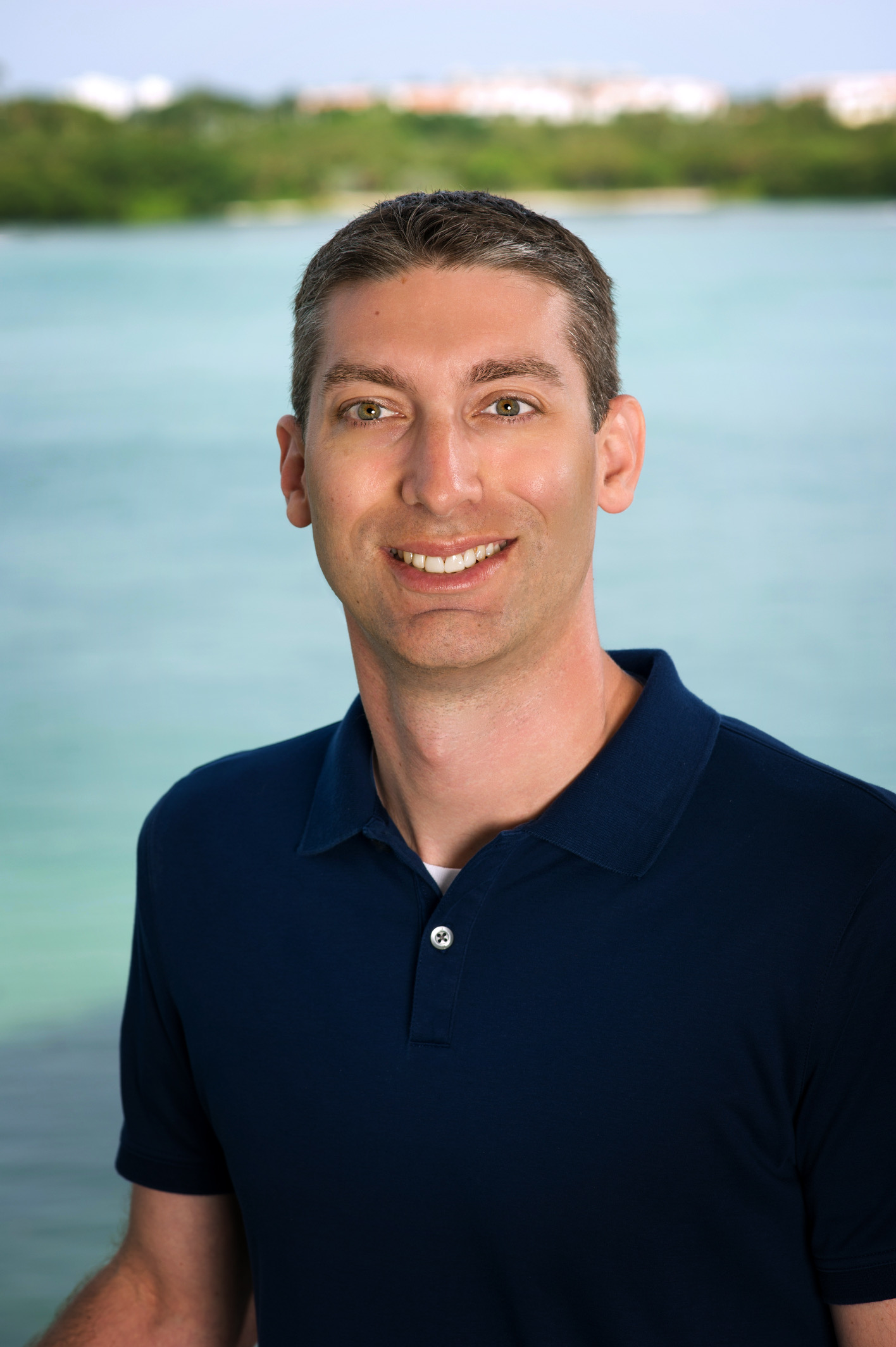 Nick Whitney
Senior Scientist
Anderson Cabot Center for Ocean Life, New England Aquarium
www.NEAQ.org
Bachelor of Arts in Biology
Class of 2000
Alma Mater:
Albion College
http://albion.edu

Independent Alum of the Day
Born in Jackson, Michigan, Nick Whitney grew up knowing one thing about sharks: they eat you. After spending a lot of time sunbathing and bird-watching (instead of going into the water) on family vacations, Nick finally started reading about sharks to learn if there was a way to enjoy the water without becoming a meal.
By the time he graduated high school, Nick was a shark nut and an aspiring marine biologist. This made Albion College an obvious choice. As an undergraduate at Albion, Nick worked with Dr. Jeffrey Carrier studying nurse sharks in the Florida Keys for three summers.
After graduating from Albion in 2000, Nick pursued his master's and doctoral degrees at the University of Hawaii at Manoa, where he began developing the use of a new tool — accelerometers to study shark behavior.
These devices can sense sharks' fine-scale movements, measuring with great precision how they swim, tilt, roll, and dive. These tags use the same technology found in your Fitbit or smartphone to find out what sharks are actually doing, instead of just tracking where they are going like traditional tags.
Whitney was the first to publish accelerometer research on wild sharks and has since used the tags on white sharks, sea turtles, Burmese pythons, and several other species. He has published numerous scientific papers, popular magazine articles and shark articles for World Book Encyclopedia Online. He has appeared on the History Channel, Discovery Channel, and National Geographic Channel, and received the "Top Ten in Ten" Young Alumni Award from Albion College in 2010.
Nick is a Senior Scientist with the Anderson Cabot Center for Ocean Life at New England Aquarium and is in residence at Newport Aquarium in Newport, Kentucky. He lives in Cincinnati, OH with his wife of 16 years, Holli ('99), their two boys (ages 10 and 7), and a 2-yr old daughter.
My motivation
Surprise discoveries. I love it when we download one of our tags and see a bizarre behavior from an animal that we never expected, or sometimes can't even understand. We have acceleration tag data showing sharks and other animals mating, feeding, resting, recovering from the stress of capture, dying, being eaten, and more. Everytime we download a tag, it feels like Christmas morning when I was a kid.
My other big motivator is creativity and innovation. I like thinking outside the box to figure out new ways to address old problems and questions. A lot of my research has revolved around this principle.
My latest accomplishments
Thinking outside the box and working with multiple institutions to create a position for myself that allows me to study sharks and other marine life while still living near my family in the Midwest.
Next big goal
To self-publish a book that answers all the questions I'm asked constantly about being a shark scientist. I've learned so many lessons along the way (mostly from my failures), and there are so many things I wish someone would have told me when I was starting out. I'd like to get them all down in one place so I can truly help all of the aspiring researchers out there who are searching for guidance.
Why is choosing your own path important?
For me, chosing my own path is probably the most important component of my inspiration and motivation. Throughout my career, I have chosen my own path repeatedly, often at the cost of increased difficulty and time spent, but I don't think I could have done it any other way. We all have to choose our own path or the path will be chosen for us, and decades later we will wake up and wonder what happened. I don't know exactly what that means, but I'm choosing my own path in answering this question!
Favorite place on campus
Sitting area under the tree in front of Stockwell Mudd library
Share this profile
View Previous Honorees
Nominate an Alum or Student