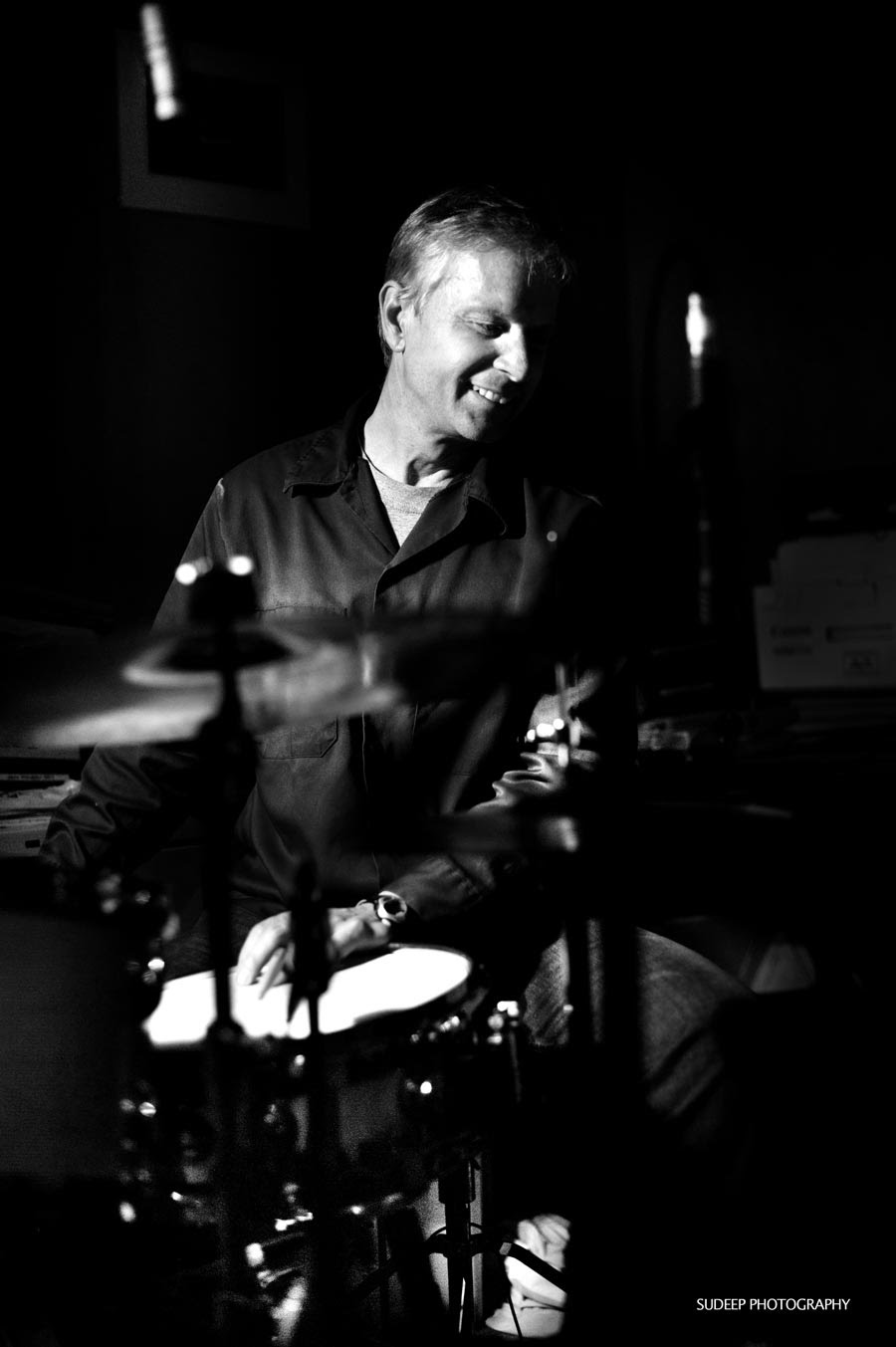 Pete Siers
Professional Musician
Bachelor of Music Education
Class of 1985
Alma Mater:
Aquinas College
http://aquinas.edu

Independent Alum of the Day
Like Clark Kent, jazz percussionist Pete Siers is soft-spoken and unassuming–but put him behind a drum set, and a hard-swinging, intensely physical, dynamically sensitive drummer emerges.
A consummate professional, Pete has an international reputation for his "restless curiosity, attention to detail, and mastery of many different styles," according to Mike Stratton, host of the FM 89.7 radio show, "The Vinyl Side of Midnight." Siers has played with jazz luminaries such as Russell Malone, Mulgrew Miller, Marian McPartland, Lee Konitz, Benny Golson, James Moody, Kenny Werner, David "Fathead" Newman, Eddie Daniels, Frank Morgan, Scott Hamilton, Bob Wilber, and Barry Harris. In addition to his expansive performance career, Siers has played on over 50 recordings, including Russell Malone's Black Butterfly on Columbia Records. He recently played Carnegie Hall, has toured Europe several times, and is a long-time favorite at many jazz parties and festivals across the U.S. Pete continues to perform orchestral pops shows such as trumpeter Marcus Belgrave's Louis Armstrong Tribute and Dave Bennett's Salute to Benny Goodman.
In addition to his performance and recording career, Pete has taught percussion and jazz drumming for over 25 years. He teaches privately as well as having taught at the University of Michigan, Ann Arbor School for Performing Arts, Emory University, Purdue University and Blue Lake Fine Arts Camp. He was also an artist-in-residence at Interlochen School of the Arts.
Pete resides in Ann Arbor, Michigan, with his wife, Stephanie Hale, and their two children, Charlie and Neva.
My motivation
I am motivated by consistent movement toward mastery. In other words, practicing. Staying inspired is important, whether it's practicing, teaching, playing, or just being a husband and father. Putting together ideas and people that have like-minded, positive energy also motivates me. I feel very lucky to be around positive energy.
My latest accomplishments
My latest accomplishment has been releasing my sixth record as a leader, "Krupa."
Next big goal
My next big goal is to produce the next CD for Los Gatos, my Latin quintet. The ultimate goal for Los Gatos is to experience first-hand the roots of Afro-Cuban rhythm in its place of origin, Cuba, and to study with the masters. My other group, the Pete Siers Quartet, including two tenor saxophones and organ, is post-bop, high-energy, straight-ahead jazz. I also have my eyes on a trio project with piano and tenor saxophone. The arrangements are unique, yet reminiscent of the Gene Krupa Trio from the early 1950s.
Why is choosing your own path important?
I wish not to speak for anybody else, and that in itself is the point. I truly feel that music had chosen me. During my time at Aquinas College, I had no skill to figure out how music was going to manifest itself as a sustainable way to live. I just keep trying to get better, practice, plant seeds, harvest in as many areas of playing, teaching, practicing as I can. Slowly I began to understand the game--living in your own skin.
Favorite place on campus
Any place my friends were
Share this profile
View Previous Honorees
Nominate an Alum or Student