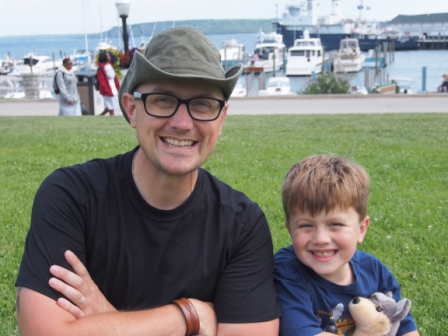 Zachary Branigan
Executive Director of a conservation and environmental non-profit
Bachelor of Arts, Art and Business
Class of 1999
Alma Mater:
Aquinas College
http://aquinas.edu

Independent Alum of the Day
Zachary Branigan is the Executive Director of the Saginaw Basin Land Conservancy. Passionate about the outdoors, Zachary grew up in the Saginaw Bay Watershed, and is an experienced mountain biker, fly fisherman, trail runner, camper, birder and naturalist.
A graduate of Aquinas College (Bachelor of Arts, art and business, 1999) and the University of Michigan (Master of Urban Planning, 2001), Zachary's unique background in community development, management, and fine art have allowed him to approach conservation in a new way, with a heavy emphasis on establishing community relevance, telling the story of conservation in innovative and impactful ways, and finding meaningful ways the charitable mission of his organization can play a role in improving the quality of life in the communities it serves.
Zachary's past experiences as a community planner in large, suburban Michigan communities like Troy, in rural communities like Ann Arbor Township, and urban communities including Flint and Detroit, provide him with a broad foundation of experience in working with diverse constituencies to build consensus and motivate people towards common goals, and especially toward conservation in populated areas.
Zachary has been a speaker at many community planning and conservation conferences, festivals, and events, and has been featured in and published by national magazines within the conservation industry.
Zachary's recent efforts have focused on his passion for community engagement and promoting active outdoor lifestyles to endear the community to the environmental cause. A father and husband himself, Zachary enjoys dreaming up exciting outdoor vacations with his wife and son, to places like northern Alberta in the middle of winter.
My motivation
I am motivated by values related to healthy lifestyle, connecting with nature, and having fun with friends and family. My work as an environmentalist and conservationist has allowed me to "be the change I want to see" in my home community after 18 years living elsewhere. Making my community a better place is my main motivation.
My latest accomplishments
Growing my organization by 100% in the past three years.
Next big goal
To develop the first natural surface singletrack trails open to the public in Bay County, Michigan, in a project to develop a mountain bike park near downtown Bay City, Michigan.
Why is choosing your own path important?
I have bounced around a lot, career-wise and with regard to my hobbies and interests. I think I needed that time to try many things and find what suits me, what motivates me. I think a liberal arts education at Aquinas did that as well... it allowed me to be well-rounded and ready for anything.
Favorite place on campus
Holmdene
Share this profile
View Previous Honorees
Nominate an Alum or Student