Amador Olvera
From Detroit, MI

Highschool: Cass Technical High School

Class of 2018
Future Alma Mater:
University of Detroit Mercy
http://udmercy.edu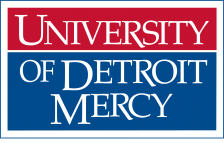 Independent Student of the Day
Amador Olvera is a business administration student at the University of Detroit Mercy. Amador was born and raised in Mexico and at the age of six, migrated to the US to find new opportunities with his family. He vividly remembers the difficulty of attending school knowing only a few English phrases. The initial difficulty of the language barrier and adjusting to life in the US encouraged Amador to push himself hard on a daily basis. As Amador matured, he became more fluent and with this, he began to see the opportunities and rewards that a great education could bring to him. His hard work paid off, Amador attended Cass Technical High School and graduated as one of six valedictorians.
Now, Amador calls attending U of D "one of the best choices I have made in my life." He especially likes the small class sizes and the one-on-one student-professor interaction this allows.
My motivation
My parents motivate me a lot. They never had the opportunities that I have had, so I want to make them proud of me. I want them to see that all their sacrifices from migrating here to the United States to a new life were worth it. I want to be able to give back to them since they have given me so much.
My latest accomplishments
My latest accomplishment was raising a total of $174 dollars to assist The Campus Kitchens Project by selling hot chocolate and returning aluminum cans. It was part of a service learning class in which we helped a nonprofit organization raise money to help people obtain food for the upcoming holidays. It felt really good to be part of such a great cause and such an amazing experience, especially here at UDM, where we try to give back to our community as much as we can. We always try to do community service to develop ourselves professionally and understand the importance of helping our local neighborhoods.
Next big goal
I want to obtain a 4.0 in college and if possible, more than just one. I also want to receive an internship opportunity where I can develop myself professionally and obtain experience in my desired field.
Why is choosing your own path important?
Choosing your own path is important because it is what you will be doing for a long time, maybe even for the rest of your life. Being happy with yourself and with what you do plays an important role in deciding what major to go into. You have to want to wake up every morning and be happy and excited to go out into the world and do the job which you prepared for through your studies. People who influence your decisions won't always be with you, so even if you do take their opinion into consideration, remember that at the end of the day choosing your own path is really important for your happiness.
Favorite place on campus
The Library
Share this profile
View Previous Honorees
Nominate an Alum or Student