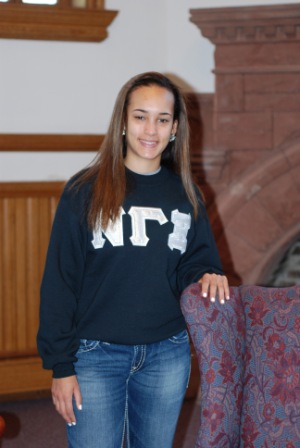 Breana Trudell
From Saginaw, MI

Class of 2015
Future Alma Mater:
The University of Olivet
http://www.olivetcollege.edu

Independent Student of the Day
Breana Trudell is majoring in accounting and minoring in business administration at Olivet College. She will be one of the first to graduate from Olivet with the major since it was reinstated a year ago.
It took one visit to campus to know Olivet was the place for her.
"I'm not a number here," said Trudell. "My professors know my name; they care about me. They are here all hours of the day and night to also help me succeed. I'm paying tuition so I can set myself up to succeed in life. Knowing my professors put in this kind of effort to help me reach my goals makes me feel great about my decision to come here."
My motivation
When someone cares about you, it changes your life. When your professors see you showing real effort – attending and participating in class, going to office hours, turning in assignments early – they'll do everything in their power to help you succeed. That's definitely motivating.
My latest accomplishments
I completed my first internship last summer with Rehmann, a regional accounting firm based in Saginaw, my hometown. The firm invited me back next summer to work for them while completing the credits I need to sit for my state accounting exam.
As part of my internship, I worked with a group of two or three other employees to audit corporations. I helped review account receivables, notes, ATM and credit card transactions to ensure the companies were following procedures to a T. It can be tedious and time consuming, but it's also a really big deal. It's all on you to figure out what they are doing wrong so they don't get in trouble.
Though the interviews with Rehmann were intimidating, I felt prepared because of the time my professors had spent with me in advance of the process.
Olivet College business administration professors partner with the college's vast network of alumni to conduct one-on-one mock interviews with students beginning in the fall of their freshman year. I was critiqued so well my freshman, sophomore and junior years that by the time I interviewed with Rehmann I had great confidence. The alum reviewed my resume and career goals and asked me questions pertaining to what I want to do in life. They offered great feedback on not only my preparedness, but also my ability to make eye contact and communicate effectively.
Next big goal
I plan to become a certified public accountant. I have to find a job posting that fits my career ambitions and build a resume for that particular job.
Why is choosing your own path important?
It was during my junior year in high school – when I took my first accounting class – that I knew accounting was the career for me. Accounting challenges and interests me… and I'm good at it. Pursuing an accounting major from Olivet College isn't for everyone, but it's my path.
Share this profile
View Previous Honorees
Nominate an Alum or Student