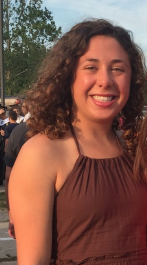 Chloe Palajac
From Dearborn, Mi

Highschool: Dearborn High School

Class of 2018
Future Alma Mater:
Hope College
http://hope.edu

Independent Student of the Day
Chloe Palajac is a junior at Hope College, majoring in chemical engineering with a minor in math.
She is a captain on the Hope College Women's Swimming & Diving team. Swimming has always been a great passion of Chloe's and she is happy to be able to include it in her college experience. As a student-athlete, Chloe has refined her time-management and leadership skills through her sport. Her leadership role as Captain has shown her that she has a desire to eventually be a leader in her future career as she enjoys inspiring others. Chloe also is refining her leadership skills as a teaching assistant in the Hope College physics lab.
When not in the classroom or the pool, Chloe enjoys reading and bike riding, especially in the fall. She also loves to watch chic flicks with her friends as a way to unwind after a stressful week.
My motivation
What motivates me are my teammates. They keep me going in practice and in school. We have become a family that has each other's backs and I know I can count on them for anything. I don't know where I would be without them, I love them all so much.
My latest accomplishments
I was recently chosen to shadow Hutchinson Antivibration Systems Inc. in Grand Rapids, MI. I am super excited to see how I can apply my major to real life problems.
Next big goal
I am currently on the search for an internship in something that fits with my interests. I want to find an internship that applies my love for chemistry, the environment, and math.
Why is choosing your own path important?
My father and sister are mechanical engineers. I almost followed that path because I did not realize I had a choice. It wasn't unitl I realized that I loved science, and with the guidance of a professor, that was I able to break from the mechanical specialty and choose chemical engineering. I am so glad I made this choice because I love every aspect of what I have learned during my college experience.
Favorite place on campus
Basement of the library
Share this profile
View Previous Honorees
Nominate an Alum or Student