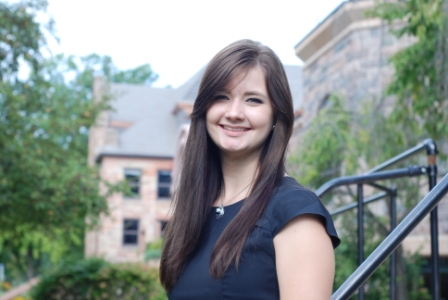 Hailey Willett
From Leslie, MI

Class of 2016
Future Alma Mater:
The University of Olivet
http://www.olivetcollege.edu

Independent Student of the Day
Hailey Willett is a senior majoring in insurance and risk management and minoring in journalism and mass communications.
She is a Global Citizens Honors Program full-tuition scholarship recipient, President's Leadership Institute Fellow, Gamma Iota Sigma officer, Student Government Association junior representative and executive secretary, WOCR staff disc jockey and member of the Athletic Band.
Last December, she had a great experience traveling to New Jersey with the Olivet College Service Learning team on its inaugural Hurricane Sandy relief trip, and had the opportunity to make a huge impact.
Hailey lives to experience new things.

What drives you to pursue all these opportunities?
I enjoy being active outside of the classroom, and in high school I was involved with many organizations.
When I first came to Olivet College and realized that I could continue taking part in similar organizations – as well as new ones that I was interested in but my high school didn't offer – I was thrilled. With passionate faculty and staff who encourage you along the way, it's a wonderful formula for success. There's a feeling of confidence when you are aware of the strong support system behind you. It goes back to the saying, "What would you accomplish if you knew you could not fail?"

How have they enhanced your Olivet College experience?
My involvement in organizations and clubs on campus has not only enhanced my Olivet College experience, it is preparing me for my future professional career as well. They've opened up doors to other incredible ventures that I've been able to take advantage of, such as making new friends in our Athletic Band to becoming active in Gamma Iota Sigma. In fact, my involvement with Gamma led to me earning a paid, competitive internship in Frankenmuth last summer.
If I hadn't truly gotten involved on campus at the level I have, I don't think I would have been able to advance my education and gain professional work experience all while still getting paid and earning college credit.

What faculty/advisors have supported you along the way?
Every faculty member and advisor I've worked with has made a positive impact on me.
However, Professor Matt Wait, director of our Global Citizens Honors Program, has been a great mentor since my very first day on campus. From gaining a broader awareness of both local and international social issues in his honors seminars, to our sincere chats about my educational pathway, to pushing me to dig deeper and go the extra mile because he knew I could, Professor Wait has helped my confidence grow exponentially. He is genuinely interested in my success as both a student and individual, which has translated into other successes in my academic career.
We really do have a strong, caring support system unique to Olivet College in our faculty and advisors. It was this that differentiated Olivet College and what set the bar so high for me when I was a new student.

What advice would you give a potential student?
Joining a campus organization is a great way to not only get to know new people, but also yourself. Don't wait to be invited to try out an extracurricular activity you've always been interested in. Try new things, but be honest with yourself and don't overcommit your time just because it would look great on a résumé.
At the same time, remember that college is an individualized time in your life – never allow someone else's opinion of an association or club influence whether you join or not. Give it a try, and if the campus doesn't have a club or group you're looking for, work with the Student Life office to start one yourself! Always ask, "How can I create something to benefit others or make what already exists better?"
Share this profile
View Previous Honorees
Nominate an Alum or Student