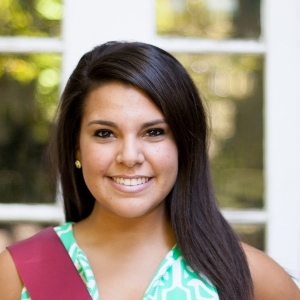 Hannah Acosta
From Holland, MI

Highschool: Zeeland East High School

Class of 2015
Future Alma Mater:
Aquinas College
http://aquinas.edu

Independent Student of the Day
Hannah Acosta is a junior at Aquinas College, studying business administration, communication, marketing and Spanish. Hannah plans to graduate in May of 2016.
Aquinas has provided Hannah with an abundance of opportunities for personal and spiritual growth that she believes have ultimately molded her into the person she is today. Currently, Hannah serves as the Vice Chair of the Student Senate. "It has been an honor to serve the Aquinas community in this capacity. My three years on Student Senate have furthered my leadership abilities and blessed me with a wonderful senate community," she says.
For her spring and fall breaks, Hannah as served as the student leader for Aquinas' service learning trip to New Orleans, LA. During her two trips to New Orleans, Hannah has returned home with a greater sense of hope, love and understanding of the community she serves.
Study, service, prayer and community are the four charisms of Aquinas and Hannah strives to live them out each and every day. "I am grateful for Aquinas College and those who make up this beautiful community. I am truly proud to be an AQ Saint!"
My motivation
People motivate me. Recently on my trip to New Orleans, I heard heartbreaking strories of perseverance from three amazing leaders of St. Peter Claver Church. Hurricane Katrina was one thing to witness on television, but it has taken on an entirely new significance in my life as I have heard the personal stories of people I have come to know and love. Devin, the music minister, said he shares his story so that people will think, "If New Orleans can do it, so can we." That is exactly how I feel and they have forever changed my heart.
My latest accomplishments
My latest accomplishment was being selected to be a part of the Purple Community Challenge with the Van Andel Institute in May. It was a wonderful opportunity to come together with other marketing and advertising students in Grand Rapids and help develop a new campaign for VAI. This involvement touched me on a deeper level, knowing people who have lost loved ones to cancer and other diseases. Knowing that I had a hand in encouraging people to be a part of Purple Community and donating to VAI is intrinsically rewarding.
Next big goal
My next big goal is to find an internship in the marketing or public relations fields. I am very passionate about both of these fields and I am determined to find an internship that will allow me to use my skills and gain new skills to further my passion.
Why is choosing your own path important?
Choosing your own path is important because you have to do what you love and love what you do. You want people to see and feel your passion in your work. It is incredibly rewarding to travel down a path, look back and recognize the struggles that you have endured, but realize where they have brought you. There will be people you meet along the way that will support you and making them proud is an even more rewarding feeling.
Favorite place on campus
The Moose Cafe
Share this profile
View Previous Honorees
Nominate an Alum or Student