Jeremy Otto
From Saint Clair Shores

Highschool: University of Detroit Jesuit High School and Academy

Class of 2018
Future Alma Mater:
Madonna University
http://www.madonna.edu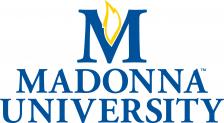 Independent Student of the Day
Jeremy Otto is a fifth year senior at Madonna University majoring in business. He transferred to Madonna two and a half years ago when his boss from Marygrove College took a job there. During his time at Marygrove, Jeremy was able to help establish the Mustang Sports Network. This was a significant establishment considering that upon arrival at Marygrove, there was little to no coverage of sports. By year three, he was able to help establish a two camera video production of all home events.
After transferring to Madonna, it was Jeremy's goal to create a similar network there. He along with his broadcast partner Brendan Johnson did just that and established the Madonna Athletics Network. The production now includes multiple cameras, commercials, interviews, features, and more.
Jeremy as also recently started a broadcasting internship with the Detroit Tigers. He is especially excited for the opportunity to work in the home radio booth during the games.
This Fall, he will be entering his fifth season as the lead play-by-play announcer of the Detroit Catholic High School League Game of the Week on FM 101.5 and AM 1400 the Patriot.
This is Jeremy's ninth year in broadcasting. He started during his freshman year in high school at U of D Jesuit where he helped build the Cub Sportscast, a live streaming platform for UDJ athletics. Now, whenever he gets the chance, he likes to travel to minor league games around the area, and go to stadiums and arenas that he has never been to before.
My motivation
The opportunities that lie ahead motivate me the most. I cherish every break I've been given so far in my young career, but I also place a strong focus on never becoming complacent. No matter how hard you work there is always someone out there that is working harder.
My latest accomplishments
My latest accomplishment is landing an internship with the Detroit Tigers. It has always been a dream of mine to work in professional baseball. I'm excited to work closely with Dan Dickerson and Jim Price, and to learn what it is like to go through a professional baseball season as a broadcaster.
Next big goal
My overall career goal is to someday be a play-by-play announcer for a professional team, a big time unviersity, or a network. I realize that most of the time that doesn't happen right out of college. I'm excited to see what road my internship takes me after it's completion.
Why is choosing your own path important?
This question especially resonates with me because of the industry I work in. Sometimes when broadcasters are just starting out they look to other people in the field to develop their style. It is acceptable and necessary to learn from the various professionals in the field but it is also important to be yourself. No one but yourself is going to be able to reveal your style.
Favorite place on campus
My favorite places are the various athletic facilities.
Share this profile
View Previous Honorees
Nominate an Alum or Student