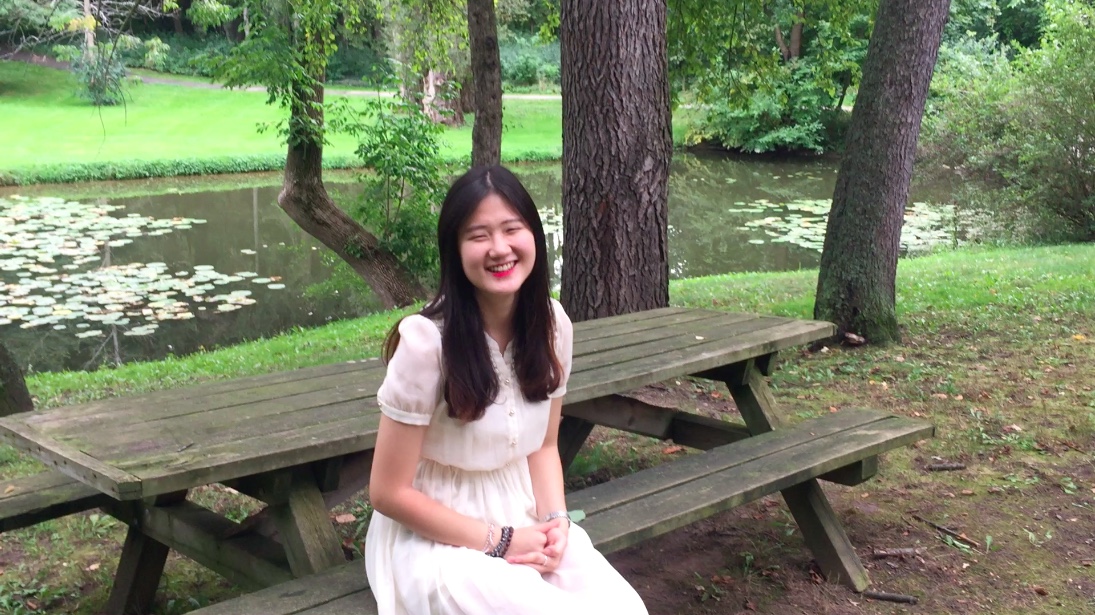 JiYoun Moon
From Suwon, South Korea

Highschool: Divine Child High School

Class of 2017
Future Alma Mater:
Aquinas College
http://aquinas.edu

Independent Student of the Day
Ji Youn is a senior at Aquinas College, studying international business and economics. She came to the United States from South Korea as an exchange student when she was 16 years old. As a child, she was always interested in learning about different cultures and languages; therefore the opportunity to obtain an education in the United States was deeply appreciated. As a result, Ji Youn decided to return to the United States to attend school, subsequently graduate from Divine Child High School and attend Aquinas College.
Impressed by the warm welcome she received by students and faculty alike upon her arrival at Aquinas College, Ji Youn almost immediately considered it her home. It is due to that warm and engaging reception, along with her innate enthusiasm for community service, that Ji Youn was inspired to become involved in as many such opportunities as possible. Evidence of her philosophy in this regard is her work as a peer mentor for the Center for Diversity and Inclusion; and as an orientation leader and a Student Senate class representative. Ji Youn is also an active volunteer in her church; with Habitat for Humanity; with Community Action Volunteers of Aquinas (CAVA); and the Aquinas College Programming Board. Additionally, Ji Youn was a participant and a leader for multiple service learning trips to Kansas City Missouri, Peru, New Orleans, Louisiana, and Pine Ridge Reservation, in South Dakota.
Ji Youn proudly recognizes Aquinas College for giving her "an opportunity to grow and learn" and, therefore, the chance to serve others and gain knowledge from her peers, as well.
My motivation
People who serve for others and services motivates me to become a better person. Throughout my college, as I was doing many different services, I have learned that happiness is not all about money and fame. When people are serving others and caring for eachother, that can make the world a better place to live and we can all be happy. I see a beauty through people serving others.
My latest accomplishments
I started college in summer of 2013 and was able to complete double majors in three and a half years. It was definitely tough because I took twenty-one credits for both of my semesters junior year, keeping my grades high and being involved on campus, but I got through it. I wanted to share these great experiences with all the global students at Aquinas College, so I applied to become a global relations intern to help and assist in this regard. I want to tell all global students that they can get through anything even though there are some hard times they go through throughout their college career.
Next big goal
My next big goal is to find a job about which I am really passionate and with a mission that fits the values of my life. As an international student, it is difficult to find a job and career that would provide growth and educational opportunities. I want to find a job where I can use my Korean and English bilingual skills, and my interest in international finance and trade.
Why is choosing your own path important?
Choosing my own path is very important. My family is very religious and throughout my childhood I was expected to become a nun, just like my brother thought he should become a priest. I didn't think I had a choice, and just followed the path. But I realized I should do what I love and I am passionate about for my life. I think when I do things I love, I am happier than any other times and it makes me grow more. Coming to the United States made me realize how much I value meeting people, learning their cultures, and serving others. And I want to show my family how God has given me my own path to follow.
Favorite place on campus
The Moose Cafe - I go to The Moose not only to get some coffee and get some work done, but also to hang out with my friends, staff, and faculty. It's basically a heart of campus where everyone can go to relax and enjoy the day with friends.
Share this profile
View Previous Honorees
Nominate an Alum or Student