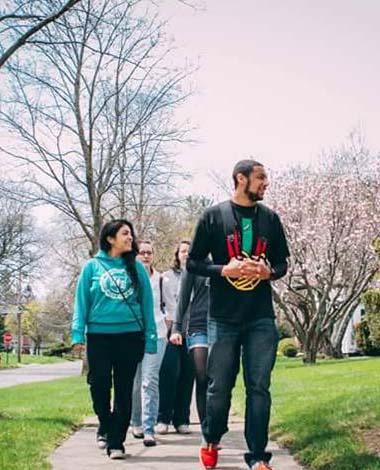 Josh Riddick
From Albion, MI

Highschool: Homer High School

Class of 2016
Future Alma Mater:
Spring Arbor University
http://arbor.edu

Independent Student of the Day
Josh Riddick is a junior at Spring Arbor University, majoring in urban development & youth outreach.
Josh has a passion for people, and a desire to see the world impacted by the Gospel of Jesus. In the summer of 2013, Josh began searching for ways in which he could make an impact on those in need in his community. With the help of a few classmates, Josh founded Project L.O.T. (Least of These).
In searching for a way to minister to the homeless, Josh realized the best way to make a difference is to meet people where they are. One of his first stops was a local budget hotel home to many in the Jackson area looking for temporary, affordable housing. Josh worked with the manager, gathered a group of Spring Arbor musicians and established worship nights in the hotel lobby. Soon thereafter, Josh and his team started their "Under the Lights" outdoor ministry by bringing their worship nights to the streets of Jackson. Like tossing a small stone into a lake, the ripples started small, but quickly grew. "The greatest effect we've had on people is they know we really care," said Riddick. "We bring church to them."
Another offshoot of Project L.O.T. has been Love Ambush, in which students walk throughout the SAU residence halls collecting money to donate to a local family in need.
Riddick continues to lead the Project L.O.T. team with courage and faith and has teamed with other similar ministries in Jackson, like Interfaith Shelter, Together We Can Make a Difference and Home of New Vision on city-wide prayer walks and other ministries.
My motivation
What motivates me is the opportunity to restore dignity to folks who have had it ripped from their lives due to either circumstance or personal choice. I want to help lead people to the realization of who they are in God's eyes, the uniqueness and giftedness with which they've been created.
My latest accomplishments
My latest accomplishment is being hired as a service coordinator at an organization called Youthworks for the summer. I'm also proud that I received academic honors last semester and was appointed to the community outreach committee.
Next big goal
My next goal is to continue to coordinate ministry opportunities in Jackson, MI, uniting churches, ministries, and organizations to battle homelessness and poverty. I'm also looking forward to spending the summer coordinating ministry in an urban context with Youthworks, and of course, graduating in May 2016!
Why is choosing your own path important?
Choosing your own path is something you have to do as an individual. When you go through your required K-12 years of school, you are trained to meet certain requirements a certain way. Our education system is designed (intentionally or not) to create carbon copies. But once you leave high school, a college's first question is: "How are you different?" Following your own path is something that you have been created to do - you as a unique person - and sets you apart so you can impact the world in a way that only you can.
Favorite place on campus
My floor: 3West
Share this profile
View Previous Honorees
Nominate an Alum or Student