Something went wrong: cURL error 60: SSL certificate problem: certificate has expired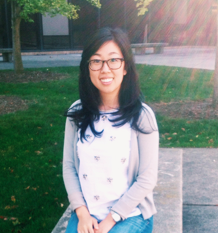 Independent Student of the Day
Joyce Yoon is a Communication major and Business Administration minor Pre-Law student at Andrews University. While at Andrews, Joyce has been involved in and headed up numerous organizations. She served as the Student Services Director of the Student Association, Communications Director of the Pre-Law Society and then President of the same organization, and President of the School of Business Administration Student Council. Joyce was also Chapter President of the Public Relations Student Society of America, and even a guest writer for the Arts and Entertainment section of the school newspaper.
Numerous leadership roles put Joyce in a position to score a great internship. This past summer, she worked on Capitol Hill for the US House of Representatives and currently works as a Congressional Intern for the Michigan Congressional District Office.
When asked to reflect on her four years at Andrews, Joyce said "I have been extremely fortunate to have phenomenal professors to learn from and to work with. They have played a role in shaping me into the person I am today, and I am so thankful for that."
Share this profile
View Previous Honorees
Nominate an Alum or Student