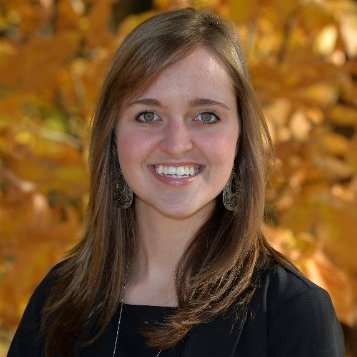 Kailie West
From Grand Rapids, MI

Highschool: East Kentwood High School

Class of 2017
Future Alma Mater:
Aquinas College
http://aquinas.edu

Independent Student of the Day
Kailie West is a senior at Aquinas College. She chose Aquinas for many reasons – among them the beauty of the campus, which she describes as resembling a park setting; its proximity within the greater Grand Rapids community that she dearly loves; and the diversity of both the college and the region – all of which convinced her that she wanted to stay close to her hometown of Grand Rapids and to become even better acquainted with it through her undergraduate career at Aquinas.
Kailie began her undergraduate studies as an elementary education major, with an English language arts focus. After four years of study, Kailie discovered that she was inspired to pursue community leadership and use all of the knowledge she had acquired to help children and families beyond the four walls of a classroom. She is now majoring in community leadership with a minor in communication.
Kailie now calls herself a "Super Senior" who is about to graduate with a plethora of remarkable experiences and valuable opportunities provided by Aquinas. She has had the chance to volunteer, shadow and observe professionals at work in a number of local schools and organizations. Additionally, she has been able to work in many campus departments such as the Aquinas Admissions Office, the Center for Diversity and Inclusion, the Writing Center and most recently, the Advantage Center. Kailie credits these opportunities, along with countless mentors who supported her unconditionally, with helping her to discover new passions and strengthen former ones, as well as succeed as a student and rising community leader. She anxiously looks forward to the distinction of becoming an Aquinas College alumna and the meaningful accomplishments it will allow.
My motivation
I am incredibly motivated by community. Although that sounds broad, to me, it is formative. I am a part of many communities: my family community, my community of classmates, my work environment communities, my city community, etc. Each community teaches me something different about real life, real love, and real engagement. The people in the places that I am blessed to be a part of motivate me to stand up for what I believe in, pursue my dreams, and never give up on making a difference.
My latest accomplishments
This semester, I became the Vocation Intern for the Aquinas College Advantage Center. The Advantage Center provides students support in the areas of career services as well as in study away and internship opportunities. My role as Vocation Intern is to help fellow students discover their calling in life and I am specifically making this happen by helping to create and launch two brand new programs: a student and alumni shadowing program and a student career representatives program. This internship combines my strengths in behind-the-scenes organization and planning with my strengths in groundwork relationship-building and service. I am loving it!
Next big goal
With graduation approaching, I look forward to my facing my next big goal of beginning a career within the Grand Rapids nonprofit community. Ultimately, I feel called to pursue community relations and outreach work, so I hope to find a position in that arena.
Why is choosing your own path important?
Throughout my time at Aquinas College, I have learned that everyone I have met has had some type of influence on my path. However, I feel that I've found success because I have let the communities I am a part of influence my path, rather than control it. I am the one who must empower myself to take control of my future and my dreams because I will be the one living it all out. When I choose my own path, I stay focused on my calling in life.
Favorite place on campus
I love being in Aquinas' Moose Cafe. Not only is it a quintessential cafe setting, the people are what make the setting feel like home. Each time I go meet a friend, study, or just mingle in The Moose and I am reminded all over again that I have found a family in the Aquinas Community.
Share this profile
View Previous Honorees
Nominate an Alum or Student