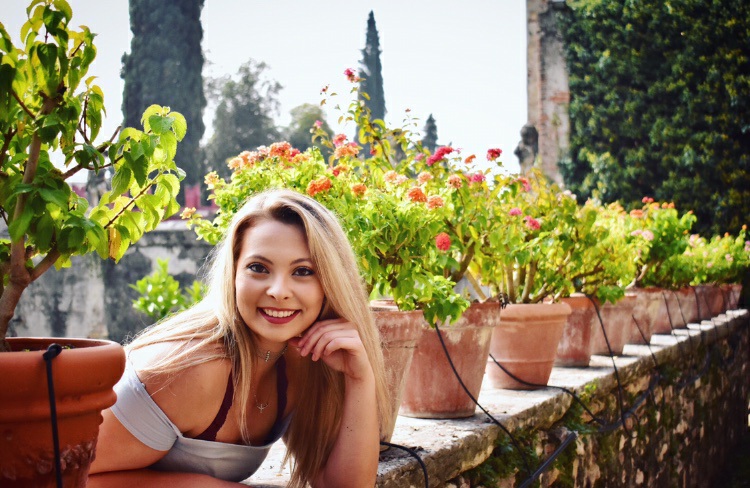 Kaitlin Goodenough
From Galien, MI

Class of 2020
Future Alma Mater:
Aquinas College
http://aquinas.edu

Independent Student of the Day
Kaitlin Goodenough is a sophmore at Aquinas College with a dual major in business administration/sport management, and a minor in exercise science.
Kaitlin keeps busy both on and of campus. She is a member of the Insignis Honors Program, and she also studied abroad in Rome, Italy during the fall 2017 semester. She expresses her enthusiasm about the trip saying "it was the greatest experience of my life. It taught me a great deal about myself, the wonderful diversity of the world, and so much more". After such a fruitful experience, Kaitlin hopes to study abroad again in London in 2019-2020.
Off campus, Kaitlin is the assistant manager at Pinecrest Christmas Tree Farm in Galien, MI, as well as the assistant manager at The Blueberry Patch, in Sawyer, MI. Additionally, she serves as a volunteer varsity softball assistant at River Valley High School.
"As long as the weather is nice", she says, "I love being anywhere outside on campus because Aquinas College has such a beautiful set up with a vast array of trees and streams running throughout".
My motivation
My professors have taught me to stay determined and think outside of the box, as well as encouraged me to push myself. For example, the particular project I worked on as an Independent Innovator was in collaboration with my marketing professor. He helped me think deeper and more intellectually about the ideas I had first presented to him which resulted in a final project that I was very proud of.
My latest accomplishments
I was recently awarded a $7,500 state-wide innovation scholarship for my business idea. I was awarded the scholarship by Michigan Colleges Alliance (MCA) through its Independent Innovators Network scholarship program.
Being chosen for this scholarship is an honor and feels like a weight has been lifted off of my shoulders. I found out I was chosen as an Independent Innovator at the start of my spring break as I was sitting on a plane waiting for my flight to take off. As I read the email, I almost burst into tears of joy and could hardly contain my excitement. The downside was that I wasn't able to call and tell my family about it right then since my flight was about to leave. Being notified that I was chosen as an Independent Innovator was definitely one of the best feelings I've ever experienced.
Next big goal
The scholarship money I've been awarded will help immensely with covering my tuition costs. With this aid, studying abroad for a second time in London is now in reach. I intend to work very hard to make this a reality, and I am confident I can do so with the help of the Independent Innovators Scholarship having put me one step closer to making that dream come true.
Why is choosing your own path important?
Choosing Aquinas was a personal choice, and it became clear to me that it was the right school very early on. Aside from the gorgeous campus, Aquinas College offers a great business administration/sport management dual major program that I knew I would thrive in. Aquinas also has a good variety of study abroad programs that I was able to take advantage of, and plan to do so again in the future.
Favorite place on campus
As long as the weather is nice, I love being anywhere outside on campus.
Share this profile
View Previous Honorees
Nominate an Alum or Student