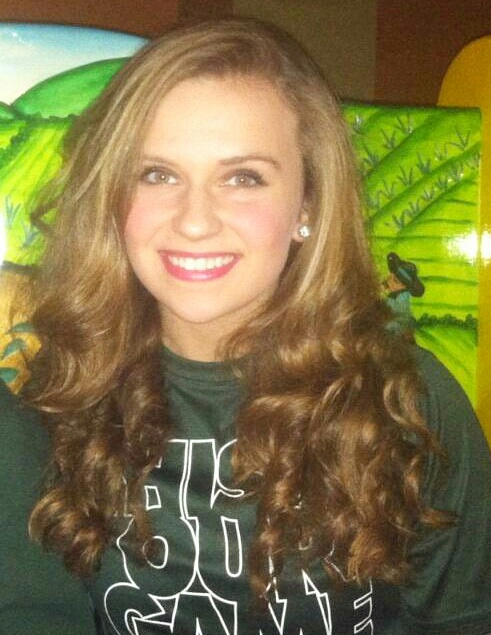 Madeline MacLean
From Bloomfield Hills, MI

Highschool: Bloomfield Hills High School (formerly Lahser High School)

Class of 2017
Future Alma Mater:
Aquinas College
http://aquinas.edu

Independent Student of the Day
Madeline MacLean is currently a dual major in business administration and communication with a focus in marketing at Aquinas College. Madeline is from the metro Detroit area and didn't know much about the west side of the state and Grand Rapids until her senior year of high school when she visited Aquinas. Madeline fell in love with the "best of both worlds" atmosphere of Aquinas. "It's a school in the middle of a forest with a couple creeks running through campus, yet somehow it is a 5 minute drive from the hustle and bustle of downtown Grand Rapids," she says.
As for academics, Madeline especially enjoys the fact that she is not just "another student" to her professors. The opportunity to have first name basis relationships with her professors has been tremendously beneficial to Madeline's development as a student, and has aided in networking for her career goals. While at times the campus can seem small, and Madeline may see the same person 5 times within one day, there are endless opportunities to get involved and hold leadership positions.
When Madeline is not in class, she is either working or planning events and meetings for clubs. Currently, she is the vice president of a campus environmental awareness club, EPIC, and is on the board for the American Marketing Association chapter at Aquinas.
My motivation
Knowing that not only I, but a team of people that I'm working with, are whole heartedly dedicated to achieving a goal. The satisfaction that I have as an individual knowing that I can improve someone else's life, only multiplies when I know that a team of people contributed to the overall well being of an individual or group of people. Finding solutions to problems and putting those solutions into action, when I have a team of people by my side who feel the same way, is the greatest feeling in the world. There truly is no "I" in "Team."
My latest accomplishments
My latest accomplishment would be having the opportunity to work as a marketing intern for Stryker Medical this summer. Starting from a young age, I've always had a passion for helping others, and I initially wanted to pursue a career in nursing when I first began college at Aquinas. In more recent years, I've developed a love for business, especially a career in marketing and sales. I truly enjoy learning about the various divisions of healthcare as well as creating projects and representing cutting edge medical advancements and systems that can improve the quality of life for so many people.
Next big goal
I hope to continue working hard and doing what I love, as well as ultimately pursuing a career within medical sales.
Why is choosing your own path important?
Choosing my own path is important because I know what it's like just floating on by whichever way the wind blows and not having much of a say or purpose behind my actions. I thought this behavior would make me happy for a period of time in my life. However, I've learned that making decisions regardless of what others are doing or what their opinions may be, is what has truly brought genuine happiness in my life. The decisions you make today build the foundation for your tomorrow. If you love what you do, don't be afraid to show it, and don't let people tell you otherwise!
Favorite place on campus
Anywhere on campus that I can hang a hammock!
Share this profile
View Previous Honorees
Nominate an Alum or Student