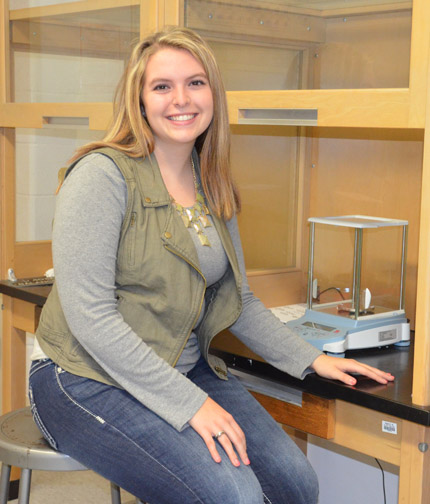 Megahn Piper
From Parma, MI

Highschool: Western High School

Class of 2015
Future Alma Mater:
Olivet College
http://www.olivetcollege.edu

Independent Student of the Day
There are certain qualities that define an Olivet College Cutler Fellow: intelligence, drive, discipline and curiosity, to name a few.
For 2014 Cutler Fellow, Megahn Piper, one could add altruism to the list.
Sure, she could have selected a project that would enhance critical skills crucial for her future success; in fact, she contemplated just that. But when it came down to the ninth hour, she simply wanted to leave a legacy.
"If I have learned one thing at Olivet College, it was how important it is to impact others in a positive way," said Piper. "This fellowship is my last big chance as an undergraduate to help give back to this school in a very positive and encouraging way, and to help mold the careers of younger science majors for years to come."
A senior double majoring in chemistry and biology with a pre-medical concentration, Piper plans to pursue graduate school in pharmacy or pharmaceutical research post-Olivet. This past summer, she took the Pharmacy College Admission Test – or PCAT. Not knowing exactly what to expect, she entered the exam with a sense of uncertainty.
So beginning this fall, Piper will develop a guide to graduate school preparation and placement for all science majors. "Whether your career goals include forensic chemistry or dental surgery, I want to supplement the work of our faculty in aiding students whose plans include graduate school," she said.
Piper will work in conjunction with Susanne Lewis, Ph.D., associate professor of chemistry, and other Natural and Physical Science Department faculty who have earned doctorate or medical degrees. The comprehensive guide will include academic plans specific to the various graduate school placement exams, timelines for grad school preparation, study guides, sample test questions and other materials to support the one-on-one personal interactions faculty have with students interested in pursuing graduate work in the sciences.
According to Prof. Lewis, Piper's work will help streamline the advising process while assisting new faculty who advise students interested in areas of science they may not be familiar with.
"Most of my advising experience comes from doing my own research in helping my advisees or in talking with alumni after they have completed the process," said Prof. Lewis. "Many alumni come back to tell us what courses helped them in graduate/professional school and what courses they wish they had taken before hand. These experiences, along with Megahn's own research and knowledge of the graduate school process, will help us help future students interested in graduate school plan their four years at Olivet College."
Piper anticipates that the information she will compile will help students feel less threatened by the prospect of graduate school. "Ultimately, my work will encourage qualified students to pursue paths that include graduate work in the sciences," she said.
Piper is approaching her project as an opportunity to preview what her graduate school experience will entail.
"The science faculty at Olivet teach you to think logically," she added. "A lot of times science isn't cut and dry; you have to think your way around a circle before coming to a conclusion. I have learned to become a highly skilled critical thinker. I anticipate pulling from my experiences in the classroom – setting measurable goals, organizing data, staying on task and coming to solid conclusions – to ultimately execute this project successfully."
Coining the experience, "The perfect end to a wonderful four years at Olivet College," Piper anticipates beginning her project this fall.
Share this profile
View Previous Honorees
Nominate an Alum or Student