Something went wrong: cURL error 60: SSL certificate problem: certificate has expired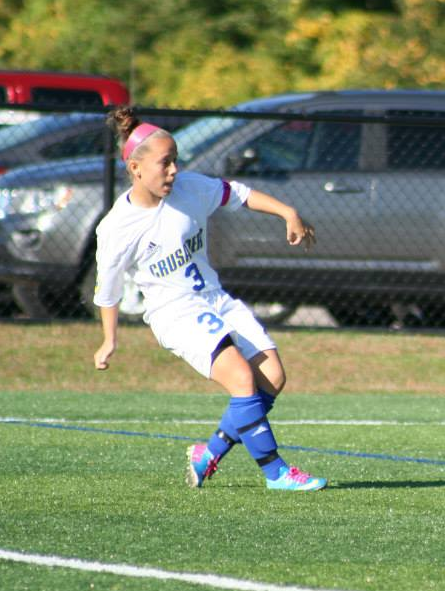 Monique DeGrandis
Class of 2015
Independent Student of the Day
Monique DeGrandis is a senior at Madonna University studying accounting with a certification in forensic accounting. Growing up in the small town of Leamington, Ontario, Monique was laser focused on success with two themes: excelling academically and playing high-level soccer.
At the young age of eight years old, Monique discovered the drive she had for soccer success. Soon, she was playing with the boys and running circles around them. Her parents realized she could out-dribble and outscore everyone on the playground, so they enrolled her in a boys competitive travel league. Monique quickly advanced through regional levels of competitive play, landing on Canada's development team. With the success she achieved playing for her high school, St. Thomas of Villanova Catholic Secondary School and for the Michigan Hawks, Monique set her eyes on one goal: playing collegiate soccer on scholarship.
Enter Madonna University. Monique is now a starting defender for the Madonna Crusaders women's soccer team. At 4'9" in height, she is the smallest NAIA soccer player. "Many people looked at my height and weight as a disadvantage in soccer; but for me, it's the flame that lights my motivation to succeed both on and off the field," Monique says. And it's working. Last year, she was recognized as a NAIA Daktronics Women's Soccer Scholar-Athlete and was named to the Academic All-WHAC team.
Off the field, Monique serves as a Student Ambassador in the undergraduate admissions department, working with incoming freshman and transfer athletes. Last year, she created a new orientation program for prospects to meet other student-athletes, get to know coaches and learn tips for juggling class and practice and game schedules.
For her work as a Student Ambassador, Monique received the Heart and Soul award from the Michigan Campus Compact. She also has received the School of Business high achievement award for two consecutive years. Now, Monique is working with three of her classmates to create Madonna's first business club.
Share this profile
View Previous Honorees
Nominate an Alum or Student