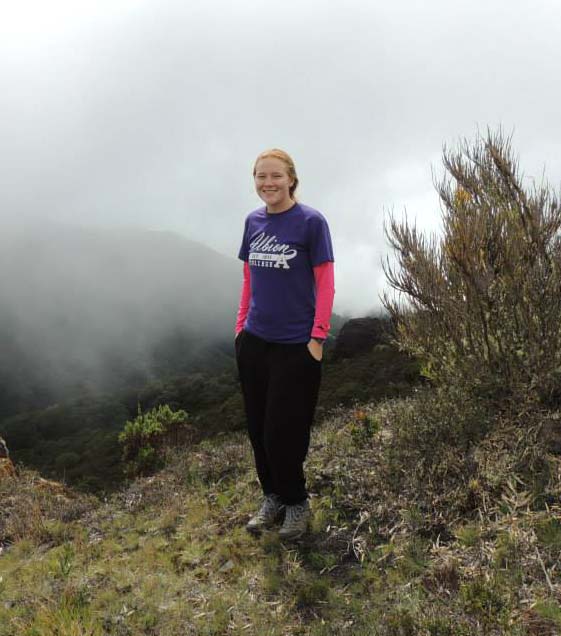 Robyn Anes
From East Lansing, Michigan

Highschool: East Lansing High School

Class of 2014
Future Alma Mater:
Albion College
http://albion.edu

Independent Student of the Day
Robyn was born in Manistee, Michigan. When she was seven years old, she was placed into foster care and moved around a lot during her childhood. She always kept a positive attitude and made the best out of situations. Robyn has always enjoyed doing well at the things that she does, working hard, and getting out of her comfort zone. Robyn always had the drive to be successful and was inspired by her family and teachers to continue to better herself and to persevere through any adversity that would face her.
Robyn duel-enrolled at Lansing Community College to get some college credit during high school and from there she decided to attend Albion College for a bachelor's degree. She will be graduating from Albion College in December 2014 with a bachelor's degree in economics and management with a concentration in environmental studies upon completing her sustainable development study abroad in Costa Rica. Robyn is very excited to attain a "real-world" job and continue to better herself and to help people better themselves.
My motivation
So many things motivate me. My life experiences motivate me. My sister motivates me. My whole (huge network of people who I call) family motivate me. My boyfriend motivates me. The desire to be comfortable, happy, and to have the ability to help others motivates me.
My latest accomplishments
I have completed a field studies study abroad program in Costa Rica. Just being away from home, in another country, for over 3 months was an accomplishment. I also am proud of doing well in all of the classes and research projects that we completed. While abroad, I realized that I would be graduating with my Bachelor's degree upon completion of the program which is quite an accomplishment in my opinion!
Next big goal
My next big goal is to acquire a full time job in the economics and/or environmental field. Eventually, I hope to combine the two and create a better environmental and economic situation for families and local communities.
Why is choosing your own path important?
Choosing my own path is important. Why would you want to follow anyone else's path? To make and to choose your own path means that when you look back, you can be proud of your decisions and your hard work. You can get more motivation when you are satisfied with the path you have taken to get where you are, even if you took some interesting turns along the way. That is the great opportunity of life, the option to choose your own path!
Favorite place on campus
A secret quiet room on the top floor of a certain building on campus.
Share this profile
View Previous Honorees
Nominate an Alum or Student