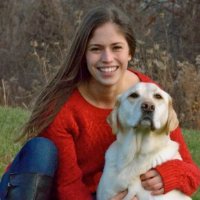 Rochelle Miller
From West Bloomfield, MI

Highschool: Walled Lake Central High School

Class of 2016
Future Alma Mater:
Hope College
http://hope.edu

Independent Student of the Day
Rochelle Miller is currently a junior at Hope College in Holland, Michigan.
Ever since Rochelle was young, she knew she wanted to do mission work around the world. Surprisingly, the biomechanical engineering major told herself she would never become an engineer, as it was her dad's line of work and, with her youthful attitude, she thought it "too dorky."
Instead, she had a desire to pursue nursing; however, her fear of needles, coupled with her enjoyment of mathematics, lead her to realize she was better suited to other fields of study. That other field, much to her dad's surprise, was engineering.
In engineering, the West Bloomfield, Michigan native found that she could still create a future that allowed her to benefit mankind. Rochelle plans on getting her master's in prosthetics and orthotics, and hopes to be able to travel the world and provide limbs to people who otherwise could not afford them. She passionately believes that everyone deserves a chance to walk, and she is going to make sure she gives that opportunity to as many people as possible.
My motivation
Last semester I did some shadowing with the prosthetist at Mary Free Bed Rehabilitation Hospital. While there, I got to see kids and adults take their first steps with their new legs. Some had never run before and others had not walked in months. The joy I saw on their faces is what motivates me.
My latest accomplishments
My latest accomplishment was winning second place at the Stryker Engineering Challenge. I was part of a team of four students from the Michigan Colleges Alliance and we competed against students from five other universities.
Next big goal
My next big goal is to get re-elected as Vice President of Student Congress. In the long term, my big goal is to create affordable and durable prosthetics for those in third world countries.
Why is choosing your own path important?
Only you know what will make you happy for the rest of your life. Go for your dreams and make yourself happy, do not chose a path because someone else thinks it will make you happy. In the end you won't look back on how much money you made, you will look back on your accomplishments, the things that made you happy, and the people God placed in your life on the way to pursuing your own path.
Favorite place on campus
Hope has a beautiful piece of land in the center of campus called the Pine Grove where students can hang their hammocks and study. I will take any chance I can get to do my homework outdoors.
Share this profile
View Previous Honorees
Nominate an Alum or Student