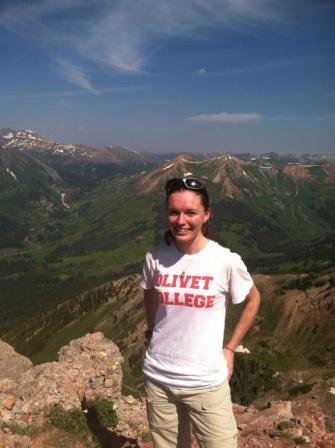 Stephanie Lamb
From Eaton Rapids, MI

Class of 2015
Future Alma Mater:
The University of Olivet
http://www.olivetcollege.edu

Independent Student of the Day
Stephanie Lamb is a senior at Olivet College with a dual major in ecology/organismal biology and environmental science. She plans to pursue her master's in behavioral ecology, the study of the evolutionary adaptation of animal behavior due to ecological pressures. Stephanie appreciates that the field won't lock her down to any particular subset of species; instead behavioral ecology has broad applications for the understanding of behavior, intelligence and learning processes of human and non-human animals.
Stephanie is a Cutler Fellowship award winner, a merit award granted to a student entering his or her junior or senior year of study in mathematics, science, and/or computer science. The award is presented with the expectation that the recipient make a substantial contribution to the advancement of their field at Olivet College during his or her year as a "Cutler Fellow."
As part of her Cutler Fellowship, Stephanie spent this past fall assessing biodiversity along the Lansing River Walk. She used this opportunity to further enhance her research skills, become more familiar with data analysis, and learn more about habitat assessment and population survey methods.
Stephanie focused her research primarily on the different birds present in several sections of the Lansing River Walk to assess habitat quality. After collecting and analyzing data, she was able to determine if certain areas are more disturbed than others and make suggestions to the Friends of the River Trail. It is Stephanie's goal that her research help the city maintain or increase biodiversity along the walk, while also providing the general public additional opportunities to view wildlife in its natural habitat. Now, Stephanie is hoping to present her results on a poster in the Michigan Academy of Science, Arts and Letters.
My latest accomplishments
This last summer, I completed an internship with the Rocky Mountain Biological Laboratory near Gunnison, CO, studying the parental care habits of burying beetles.
With guidance from a mentor, I was able to design and complete my own experiments. Five Ph.D.-level scientists provided feedback throughout the experience and were generous enough to give their insight into my project. They also introduced me to various types of small mammal and bird trapping methods, radio telemetry techniques, population censuses and experiment design. To put it simply, it was awesome!
Next big goal
I have the long-term goal of becoming a wildlife biologist or conservation scientist. I want my life's work to contribute to the conservation of rare habitats and endangered species.
Though I'm still researching the best graduate programs, I find the University of Michigan and University of Colorado Boulder's programs most attractive. My master's will focus on population ecology, reproductive behavior or habitat fragmentation.
Share this profile
View Previous Honorees
Nominate an Alum or Student