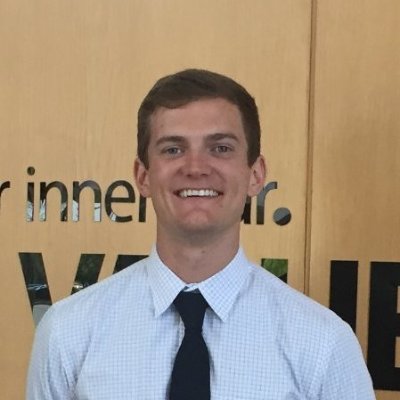 Thomas Christy
From Bloomfield Hills, MI

Highschool: Notre Dame Preparatory School

Class of 2017
Future Alma Mater:
Aquinas College
http://aquinas.edu

Independent Student of the Day
Thomas Christy is an economics major at Aquinas College, graduating in 2017.
On campus, he is involved as a student ambassador in the Admissions Office of Aquinas College, and this summer led more than 100 tours for prospective students. Tom is also the president of EPIC (Environmental Protectors Interacting for Change), a student organization that works with the community on environmental initiatives. Through EPIC, Tom fueled his passion for educating others about environmental sustainability and positively impacting the natural world.
Tom also is an 8 year member of Ducks Unlimited, an international conservation organization that helps create and protect waterfowl habitats, and currently is the youngest member of the South Kent Chapter of Ducks Unlimited.
"I love to do anything that can get me outdoors. I enjoy fishing, hunting, hiking and backpacking in wild places all over North America. On campus, I make a difference by working in the Aquinas Community Garden."
My motivation
Every time I gain an achievement, I get a deeper hunger for the next success. I learn from my failures and feed on my victories. With my family, friends, and the Aquinas College community to support me, I feel safe in putting myself out there and trying my hardest to achieve success.
My latest accomplishments
I was recently asked to speak on a college panel at the DeVos Center in downtown Grand Rapids. I had the great experience to speak to high school juniors and seniors about the big decisions they have in choosing a college that is the right fit for them. I was grateful to be speaking alongside three students from other small colleges in the Grand Rapids area.
Next big goal
As the president the environmental organization EPIC at Aquinas, I fight a constant battle for student interest in the environment. In my experiences, I have found that creating a personal relationship with nature results in a greater care towards the environment. The only way we can help improve the natural world is by first finding a reason within ourselves so we can be motivated in our cause for a healthier planet. My goal is to be the liaison between Aquinas students and the great outdoors.
Why is choosing your own path important?
Nothing tells more of a persons character then the decisions he/she makes in a lifetime. I believe that if I want to change the world, I need to have my own ideas and the motivation to make them realities. I want to choose my own path because I want to be different, and people notice when things are different.
Favorite place on campus
I practically live at the Moose Cafe in the historic Cook Carriage House.
Share this profile
View Previous Honorees
Nominate an Alum or Student