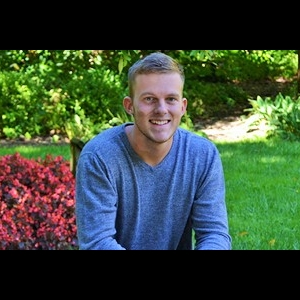 Travis DeHaan
From Alto, MI

Highschool: Caledonia High School

Class of 2017
Future Alma Mater:
Aquinas College
http://aquinas.edu

Independent Student of the Day
Travis DeHaan is a sophomore in the education program at Aquinas College studying biology and Spanish.
Having attended rural public schools all his life, Aquinas never once crossed Travis' radar. "If I'm being completely honest, I had it in my mind that only rich kids could go to this school, so why waste the little time I had looking into it?" Travis explained. But after speaking to Aquinas students, touring the campus, and realizing that he could receive financial aid, Travis made a leap of faith. That leap brought him to doors that he never imagined he would have the opportunity to open.
Travis recently began serving as an Aquinas College Student Ambassador, an opportunity he is most excited about because he can help prospective students have the same "ah ha!" moment he experienced on his Aquinas campus tour. Travis is also active in the Aquinas Programming Board, AQ Intramurals, the Education Club and Casa Hogar Club. So, what does Travis love most about Aquinas College? "I simply can't choose just one so I would have to say my favorite things about Aquinas are the academic and life support provided by the faculty here and two, the sense of community. Aquinas College may be a small school, but it makes for one huge family."
Travis' big life goal is to create an impact. Through his experiences on campus and off, he's already making a difference and plans to continue to do so through a career as a secondary teacher.
My motivation
There are so many factors that keep me pushing each and every day. This past summer I was able to travel to Peru for two weeks for a service learning trip sponsored by Aquinas. While there, our group met over 70 beautiful orphans who were beaming with joy and happiness. From that experience forward, I made a promise to myself that I would give 100% of my effort into everything that I do simply because I have the ability to do so. I know that many of those children will never be exposed to the same opportunities I am exposed to so who am I to abuse my privileges? In addition to being motivated by those kids, my family, close friends, and of course the Man upstairs all push me to be my best.
My latest accomplishments
My latest accomplishment was being nominated and chosen as a Student Ambassador on campus. I was very active in my high school student government and student council, but never thought I would have the opportunity to do what I do as an ambassador. I get to give tours to excited families with kids who are in the middle of the rigorous college search while also meeting with community members and alumni in hopes of hearing their Aquinas stories. I am looking forward to the plethora of faces and places this position will lead me to.
Next big goal
This semester, I have the unbelievable opportunity to study abroad in Costa Rica for four months and I am hoping to return to the United States as a fluent Spanish speaker. Also, I would love to be able to help out at a school or a wildlife sanctuary here in hopes of preparing me for my future profession as a Spanish or biology teacher. It's time for me to be immersed in a culture other than my own, and I couldn't be more ready.
Why is choosing your own path important?
Instead of choosing a path already cleared, I think it is important to blaze your own trail through unchartered territory. Sure it may be scary not seeing what lies ahead but isn't that also the exciting part? By having blind faith, it allows us to put all of our trust in God and learn how to handle curve balls thrown our way. It forces us to grow, instead of taking the easy way out.
Favorite place on campus
The Moose Cafe
Share this profile
View Previous Honorees
Nominate an Alum or Student