Something went wrong: cURL error 60: SSL certificate problem: certificate has expired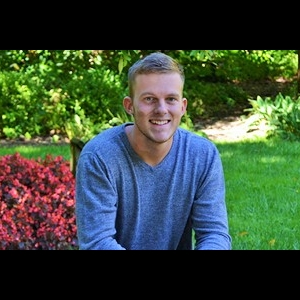 Travis DeHaan
Class of 2017
Independent Student of the Day
Travis DeHaan is a sophomore in the education program at Aquinas College studying biology and Spanish.
Having attended rural public schools all his life, Aquinas never once crossed Travis' radar. "If I'm being completely honest, I had it in my mind that only rich kids could go to this school, so why waste the little time I had looking into it?" Travis explained. But after speaking to Aquinas students, touring the campus, and realizing that he could receive financial aid, Travis made a leap of faith. That leap brought him to doors that he never imagined he would have the opportunity to open.
Travis recently began serving as an Aquinas College Student Ambassador, an opportunity he is most excited about because he can help prospective students have the same "ah ha!" moment he experienced on his Aquinas campus tour. Travis is also active in the Aquinas Programming Board, AQ Intramurals, the Education Club and Casa Hogar Club. So, what does Travis love most about Aquinas College? "I simply can't choose just one so I would have to say my favorite things about Aquinas are the academic and life support provided by the faculty here and two, the sense of community. Aquinas College may be a small school, but it makes for one huge family."
Travis' big life goal is to create an impact. Through his experiences on campus and off, he's already making a difference and plans to continue to do so through a career as a secondary teacher.
Share this profile
View Previous Honorees
Nominate an Alum or Student

Warning: Invalid argument supplied for foreach() in /app/public/wp-content/themes/mca/sidebar.php on line 69


Warning: Invalid argument supplied for foreach() in /app/public/wp-content/themes/mca/sidebar.php on line 91