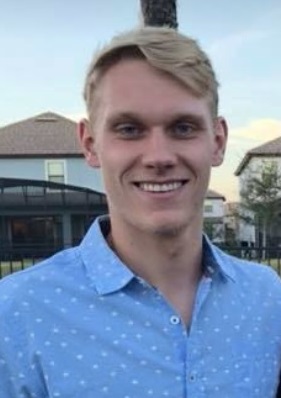 Tyler Kimbrell
From Milan, MI

Class of 2020
Future Alma Mater:
Albion College
http://albion.edu

Independent Student of the Day
Tyler Kimbrell is a long-time resident of Milan, MI, and now a sophomore at Albion College majoring in accounting.
An avid swimmer, Tyler was recognized as the Male Athlete of the Month by the Milan Eagle. He continues to pursue his passion for swimming as a member of the Albion Varsity Swimming team.
Tyler's hard work in the classroom has earned him dean's list honors, and he keeps active on campus as a member of the Delta Sigma Phi Fraternity.
My motivation
The small campus and community atmosphere at Albion College is perfect for me. I love being able to have close relationships with my professors and fellow students. This is the environment that keeps me motivated and allows me to thrive as a student.
My latest accomplishments
I was recently awarded a $2,500 state-wide innovation scholarship for my business idea. I was awarded the scholarship by Michigan Colleges Alliance (MCA) through its Independent Innovators Network scholarship program.
It feels great to be recognized for my ideas. I have worked very hard to expand this idea, so to be recognized proves to me that I am taking it in the right direction.
Next big goal
The next step for my innovative business product deals with programming it and finding a user-friendly platform that allows easy access for all users and vendors.
Why is choosing your own path important?
Albion College has taught me how to network with many people which has broadened my horizons. I have in turn learned how to think outside the box and make my ideas into something that I can be proud of in all aspects of life. All of this has helped me to chart my own path and pursue my passions.
Favorite place on campus
The pool
Share this profile
View Previous Honorees
Nominate an Alum or Student