Archive for June 2016
It's that heady time of year again. Graduation season. Time for caps, gowns and a whole lot of excitement.
And maybe just a smidgen of anxiety too — especially for those receiving diplomas who still aren't sure what comes next.
First, take a deep breath. Then realize: It's still not too late to attend college in the fall, especially since many of Michigan's 15 top independent colleges and universities offer rolling or late admissions.
Rules vary by college. But typically, rolling admissions discard traditional application deadlines. Instead, students are accepted until class sizes are met for the following term. That often means that it's not too late, even in June, to attend one of the finest colleges in the Midwest.
Aquinas College, Albion College, Alma College, Calvin College and Hope College all officially offer rolling admissions, while most other colleges accept late applications. And with firmer deadlines — such as Hillsdale College — still take applications for future semesters, giving students breathing room to chart their next chapter.
Best of all, applying online is free.
Get started by following the links above for those colleges, as well as Marygrove College, Madonna University, Adrian College, Olivet College, Andrews University, Kalamazoo College, Siena Heights University, Spring Arbor University and University of Detroit Mercy.
Like all admissions, there's no guarantees. But the truth is it's almost never too late to attend the college of your dreams. Worst case, it may take a little longer. Best case, the world is your oyster.
That's because Michigan's 14 independent colleges and universities pride themselves on accepting students who purposefully chart their own path.
National leaders in education, the independents boast graduation and employment rates that often exceed big public schools. Classes are taught by award-winning faculty who are experts in their field. Because class sizes are so low, professors form tight bonds with students and help chart their paths.
Committed to community, the colleges have deep networks of business executives and alumni who mentor students.
Often less expensive than public schools, the independents offer a truly unique and affordable experience that simply doesn't exist at big state schools.
Be bold. Be different. Go independent.
There's a great line for anyone who plays or appreciates music in the '90s movie "Mr. Holland's Opus."
"It's about heart. It's about feelings. Moving people and something beautiful," Glenn Holland, a high school music teacher, tells his class.
"It's not about notes on a page. I can teach you notes on a page. I can't teach you that other stuff."
Chuck Livesay taught both for 41 years at Spring Arbor University, directing choirs at the college and touching countless lives. Only about a quarter of the students in his choirs actually majored in music, but Livesay struck all the right chords.
"I really can't think of anything else I would be doing, other than music. It's been a passion," Livesay told SAU in MLive.
So, as they did for the Richard Dreyfuss character in "Mr. Holland's Opus," old students of Chuck Livesay came from near and far for his last concert.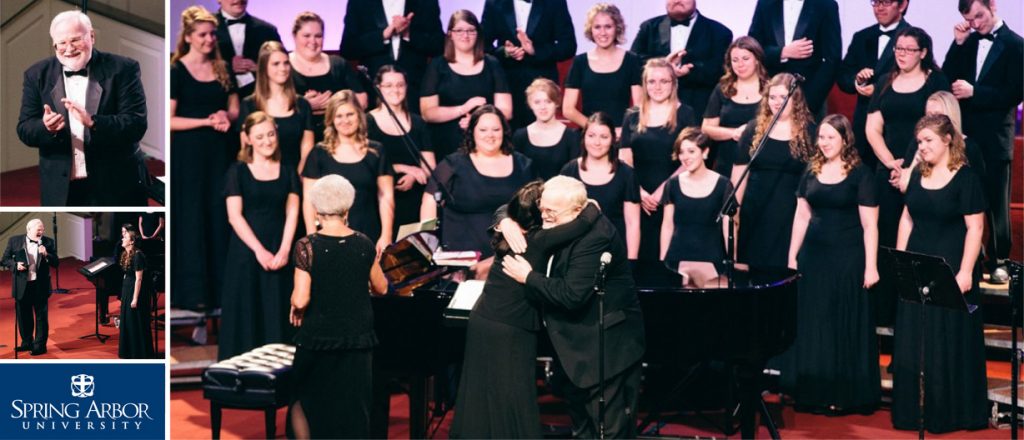 Seventy-one alumni came from as far as Texas for the last performance in May, which Livesay called a highlight of his career.
All came up and sang two songs at the end of the concert. They knocked it out of the park after all those years.
What made Livesay different? Why would so many want to thank him one last time?
"(Students said) we could tell as you worked with us that you were very passionate about the music. It really touched you in a deep way and it helped to touch us in a deep way," Livesay said.
Passion. Community. Dedication. Bonds that last a lifetime. That's the difference at Spring Arbor University and Michigan's other top 15 private colleges and universities.
Livesay only planned to stay at Spring Arbor for two years. He made it a career. That's not unusual because it's easy to fall in love with Spring Arbor and the other independents.
Unlike big state schools, class sizes are small and taught by incredible faculty who help students forge their own path.
They have a deep and committed network of alumni who help after graduation. It's an experience that simply isn't available at traditional universities.
And despite what you may have heard, independents are often less expensive and boast higher four-year graduation rates than four-year institutions.
Be bold. Be different. Go independent.
In high school, playing Minecraft in class might get you detention. Doing so at Calvin College might get you an 'A.'
In yet another example of why college is infinitely more awesome than high school, Calvin Geography Professor Jason VanHorn in January 2017 will teach a class known as "Minecraft to Marauder's Map: Mapping Your World."
The class incorporates pop culture to whet students' interest in mapping technology. Available to first year students, the class will map the "infinite worlds of Minecraft," as well as the secret passages and mystical nooks and crannies of Hogwart's School of Witchcraft and Wizardry in the Harry Potter book series.
The goal is ambitious: The class will explore "connection of maps with Christian faith" and use old and new technologies to better understand the world around them — from the link between landscapes and poverty to terrains and terrorism.
It's heady stuff. After all, Van Horn is an accomplished geologist and geographer who has done extensive work mapping Michigan's sand dunes.
But just because subjects are serious doesn't mean they can't be fun as well. After all, sometimes it takes a map to find yourself.
And that's the specialty of Calvin and Michigan's top private colleges and universities.
They do things different and help students chart their own path — because there's more than one route to success.
Classes are smaller. Accomplished academics like VanHorn actually teach classes rather than delegate those duties to graduate students.
That helps tighten bonds and foster a sense of community that simply isn't available at big state schools. Students are part of an incredible network of faculty and alumni that help every step of the way.
And despite what you may have heard, independents are often less expensive and boast higher four-year graduation rates than four-year institutions.
Be bold. Be different. Go independent.