Archive for October 2016

It's called 'As1.' And it's more than a motto at Hope College. It's a way of life.
The credo of Hope College's prestigious Men's Swimming and Diving Team, it's written on every cap and chanted during practices and meets. It stands for "As One Team." And it's a core commitment of unity in a sport that often involves being alone.
"We do everything together as a family," Clay Hackley, a sophomore freestyler told the blog Swim Sam.
"It's very important. We cheer 'we get the job done.. As1!'"
Hackley produced a hype video of the Flying Dutchmen team that's making its way around the internet. Just a hair over 1 minute, it encapsulates what's so awesome about athletics at small colleges like Hope and Michigan's 15 independent colleges and universities.
Tradition. Togetherness. Community. Excellence. Win or lose. As One.
Third place last year in the MIAA championships, the Hope program is hosting the championship in 2017. They're led by Head Coach John Patnott, who for 38 years has overseen the college's men's and women's team.
Through the years, the program has developed cherished traditions. A black flag with the letters "HMS" is carried to every meet. Freshmen get nicknames. They're written on their white swimming and diving caps.
On the other side, of course, is As1.
"Any older swimmer on the team can, at any moment, take your cap and rub in dirt or anything to get it dirty. It's sort of like a varsity jacket," Hackley told the blog.
It's an experience that simply isn't replicated at big state schools. That's because community is a way of life at Hope and Michigan's 15 independent colleges and universities, which pride themselves on being purposefully different and helping students chart their own path.
Classes are taught by award-winning faculty, rather than TAs. An engaged network of professional alumni help students pursue their dreams. Class sizes are small. And students actually graduate in four years, rather than five or six at public schools.
And despite what you may have heard, the independents are often less expensive than big state schools.
Be bold. Be different. Go independent.
Congratulations. You have an associate degree. All that hard work has paid off.
Now what?
If you're like many, you're ready for more after community college. After all, a four-year degree is the best ticket to prosperity, with pay averaging $400 per week more than those with two-year degrees, according to federal statistics. Within 10 years, the gap is closer to $25,000 per year.
And Michigan's 14 independent colleges and universities are the fastest way to a four-year degree. That's because they make it easier to transfer and most of their students actually graduate in four years rather than five or more at big state schools.
"Students often think transferring from community college is far more difficult than it really is," one admissions officer said. "It's even easier at Michigan independent colleges and universities."
Time was, transferring was difficult, in large part because credits wouldn't transfer, wasting time and money. Not anymore.
Not only do Michigan independent colleges and universities have admissions staffers specially trained to work with community college transfer students, recent state law has taken the guesswork — and subjectivity — out of the process.
The state Legislature passed laws in 2012 to make more community college core classes transferrable at four-year institutions statewide, a system known as the Michigan Transfer Agreement.
Transfer students to Michigan independents hit the ground running. On average, the percentage of students who graduate from independents in four years is nearly double that of public institutions, not only saving them a year of tuition but giving them an extra year of earnings in their careers.
And speaking of cost, the independents are among the most affordable in the Midwest. That's because more than 93 percent of students receive financial aid, lowering advertised tuition and bringing actual costs on par with many public universities.
That means our education is not only priceless. It's affordable too — one of many differences with traditional universities.
Unlike big state schools, class sizes are small and taught by incredible faculty who help students forge their own path. They have a deep and committed network of alumni who help after graduation. It's an experience that simply isn't available at traditional universities.
Be bold. Be different. Go independent.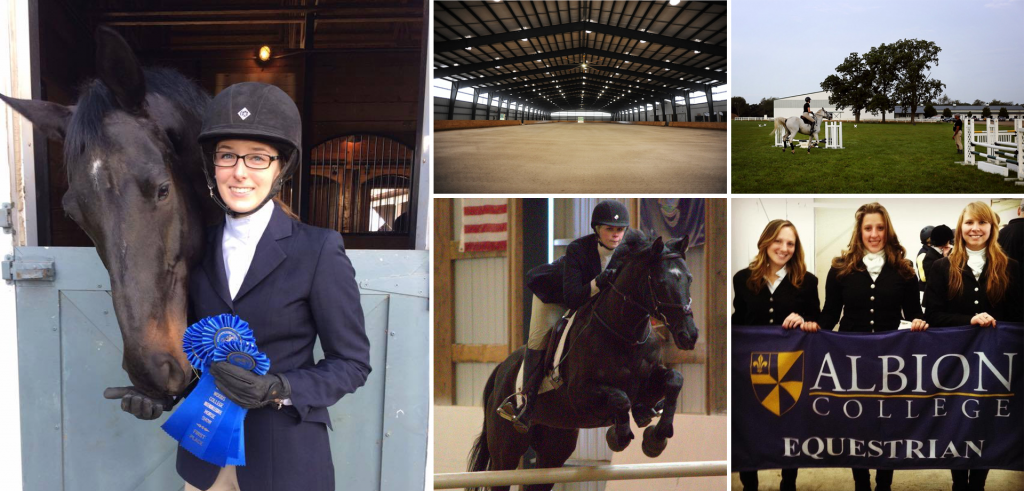 College is where dreams, no matter how fanciful, find a way.
So more than a decade ago, when an Albion College student wrote a thesis with a crazy suggestion — hey, wouldn't it be great if there was a place to board horses near campus? — she wasn't laughed off college.
Instead, her idea was embraced, massaged and worked until it became reality. The super-cool Nancy G. Held Equestrian Center opened in 2004. The $1.8 million facility accommodates 79 horse stalls.
Now, it's expanded again, as crews put finishing touches on a new indoor area, the largest of any kind among colleges nationwide. About 200-1,000 people are expected each weekend for competitions.
"It started as a joke and then turned into something more serious," Randi Heathman, a 2003 Albion graduate, told WWMT-TV 3.
"My thesis projected that we would get approximately 15 new students per year that we wouldn't get without this here and I think in the first year we got 30. It's been a substantial enrollment booster ever since the day it opened."
What's even more remarkable: Albion College doesn't even offer an equestrian degree. But administrators green-lit the project because they saw students had passion. And, as often the case in life, if you have passion, almost anything is possible.
"Albion prepares students for whatever career they want to go into," Heathman, who is now the college's equestrian adviser, told MLive.
"We want students to come here to be academically challenged and to continue or start riding if they love to do so. Those who want a career in equine usually get there one way or another."
The project probably wouldn't have happened at big state schools. But there's unique bond between students and faculty at Albion and Michigan's 15 independent colleges and universities.
Faculty know students because they actually teach classes, rather than sloughing them off on graduate assistants. Professors not only help students chart their own path and pursue their passion, but encourage them to take a wild idea, tie it to a string and see if it can fly.
Proudly different, purposefully small, independent colleges teach students to say "why not?" rather than "why"?
Often less expensive than public institutions, the independents boast higher four-year graduation rates for a truly unique and affordable experience.
Be bold. Be different. Go independent.