Archive for February 2019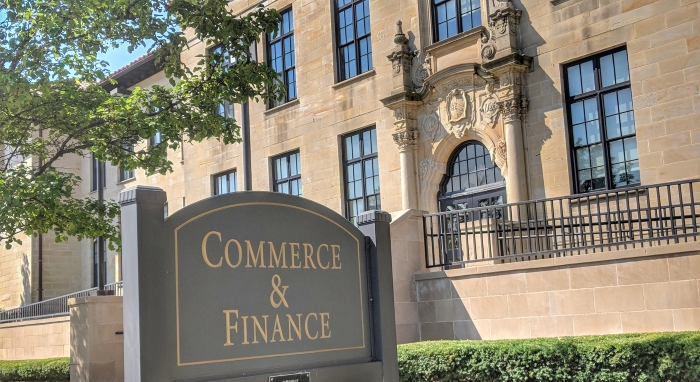 Detroit Mercy recently received a $6.1 million estate gift to endow a new chair in the College of Business Administration  (CBA). This is the largest single gift in the history of University of Detroit Mercy.
When he died in 2016, Arnold Jarboe '54 left his bequest to establish the Arnold Jarboe Chair in Business Administration in the College of Business Administration. Jarboe was an attorney for the Social Security Administration.
"This extraordinary and large gift by our unassuming alumnus, Arnold Jarboe, is the best affirmation that he truly lived the Jesuit values he learned as a University of Detroit student," said Detroit Mercy President Antoine M. Garibaldi, Ph.D. "Mr. Jarboe's generous endowment will make it possible for generations of students and faculty at Detroit Mercy to receive and deliver, respectively, a high quality education in Business and leadership."
Joseph G. Eisenhauer, dean of the College of Business Administration, has appointed Evan A. Peterson '06, '09, a lecturer in Business Law, to serve as the first Jarboe Chair.
"I am deeply grateful to Arnold Jarboe for his remarkable estate gift to the College of Business Administration and profoundly honored to have been chosen for this prestigious appointment," Peterson said. "Through this gift, the College of Business Administration will continue to enhance its reputation as a national leader in providing students with innovative, cutting-edge business programs."
Peterson holds B.S., J.D., and MBA degrees from Detroit Mercy, and a Ph.D. in Management from Walden University. A licensed attorney who has practiced law in Michigan, Peterson also serves as director of Undergraduate Business Programs and co-director of the Honors Program. Since joining the University full-time in 2014, he has helped create a minor and a concentration in Business Law and published more than a dozen scholarly articles in professional journals. In addition, he has actively engaged students as co-authors on many articles and research papers.
The Jarboe Chair will become part of the CBA's Center for Practice & Research in Management & Ethics (PRIME), which Peterson will serve as director. The PRIME Center will offer enhanced opportunities for Detroit Mercy business students to interact with leading business executives and thinkers, and develop a number of activities and scholarship endeavors, including the following:
Creation of a speaker series that brings nationally prominent leaders of businesses, nonprofit agencies, educational institutions and governments to campus for presentations.  These executives and entrepreneurs will share their expertise and practical ideas with students and faculty, which will help ensure that CBA academic programs and research are relevant to the real world.
Expansion of experiential learning and leadership opportunities for students in business.  These include hands-on coursework, such as the Integrated Field Project, in which MBA students serve as business consultants to nonprofit organizations on live case projects; service-learning projects, in which students use the skills developed in the classroom to benefit the community while gaining practical experience; internships, through which regional employers can hire an energetic labor force while students gain resume-building professional experience and income; leadership workshops, such as those offered by our Center for Social Entrepreneurship; and teamwork projects, in which students work collaboratively with diverse colleagues to solve managerial problems.
A student-run journal that solicits, edits, publishes and distributes research from around the nation on topics relevant to the PRIME Center mission. Detroit Mercy students will serve as the editors and peer-reviewers of submissions from students at other universities, helping them develop their research into publishable form. In this manner, the PRIME Center will serve as a resource for enhancing management and ethics education nationwide.
Professional research on Management and Ethics will be conducted by PRIME Center affiliates, including Fr. Gerald Cavanagh, S.J., the Charles T. Fisher III Chair of Business Ethics, who is recognized nationally as a founder of the business ethics field. The Center will share this research at professional conferences and publish it in leading journals for the benefit of scholars around the world.
According to Eisenhauer, "the activities of the PRIME Center will expand both academic and professional opportunities for students, and ensure that we maintain our leadership position both regionally and nationally in management and ethics."
Future plans for the PRIME Center include a Behavioral Dynamics Lab, in which teamwork and leadership are studied first-hand through audio and video recording of group interactions and remote conferencing. Other centers of excellence in the College of Business Administration include The Center for Social Entrepreneurship, America's Business High School, The Financial Markets Lab and Institute for North Korean Studies.
The College of Business Administration's accreditation by the Association to Advance Collegiate Schools of Business (AACSB) places it among the top 5 percent of business schools in the world.
In addition, the College's graduate and undergraduate Management programs are consistently ranked among the nation's top 25 by U.S. News & World Report.
To learn more about Detroit Mercy's College of Business Administration, click here.
The Council for Christian Colleges & Universities (CCCU) has announced that Dr. Jacob Atem, a 2008 graduate of Spring Arbor University and the co-founder, president, and CEO of the Southern Sudan Healthcare Organization, has been named the 2019 CCCU Young Alumni Award winner. The award was presented on Wednesday, Jan. 30, during the 2019 CCCU Presidents Conference in Washington, D.C. The CCCU Young Alumni Award is presented to individuals who have graduated within the last 10 years and have exhibited uncommon leadership or achieved notable success in a way that reflects Christian higher education.
"Jacob was one of 40,000 children orphaned by the Second Sudanese Civil War. His story of perseverance in the midst of trauma, despite unimaginable odds, inspires such hope," shared CCCU President Shirley V. Hoogstra. "As we continue to engage in national conversations surrounding immigration, Jacob's story reminds us of the power of individuals to make a difference, the life-changing work of higher education and, most importantly, the unparalleled glory of our God."
Atem's passion for helping others and his love for South Sudan stems from his own experience as one of Sudan's Lost Boys. Atem was six years old when his parents and several of his siblings were killed by northern Sudanese Arab militias waging war on Southern Sudan. After walking over 2,000 miles with other lost boys, he found refuge in Kenya before coming to the United States at 15. With the support of his foster family in Michigan, he graduated high school and went on to study at Spring Arbor University (SAU), where he experienced the antithesis of his lost boy experience: a welcoming community of faith, full of mentors and friends ready to invest in his life.
After personally witnessing the effects of malnutrition and disease, his experience in America propelled Atem to continue his education in order to give back. In the midst of his studies, Atem co-founded the Southern Sudan Healthcare Organization (SSHCO) and raised $800,000 toward building a clinic in his hometown. Today, SSHCO sees over 3,000 patients monthly for less than $5 a person, fulfilling Atem's hope of bringing hope to where it is lost. After Spring Arbor, he continued his education by earning a Master of Public Health at Michigan State University and, eventually, a doctorate in Environmental and Global Health at the University of Florida. Atem is currently a postdoctoral Fellow at Johns Hopkins Center for Humanitarian Health.
"For me, I wouldn't be who I am today without God," Atem said. "One of my favorite verses says, 'To whom much is given, much is required.' After coming to America, I found myself being blessed in a land of freedom, a place where you can learn and actually practice your faith, and I was blown away. This scripture has truly impacted my life, and after realizing I could work hard to help others, now I am returning to give to my country and share my story."
"Jacob is an exceptional alumnus and represents the truly transformational experience an intentionally Christian education can have upon a student," added SAU President Brent Ellis. "When Jacob immigrated to the United States, he brought nothing with him but his courage, perseverance, determination, and passion. These characteristics served him well as he worked diligently during his years at SAU. Mentored by professors and staff, Jacob graduated prepared not only for graduate school, humanitarian work and global advocacy, but ready to serve our world as an ambassador of Christ, as a minister of redemption and reconciliation and a as critical participant in the contemporary world."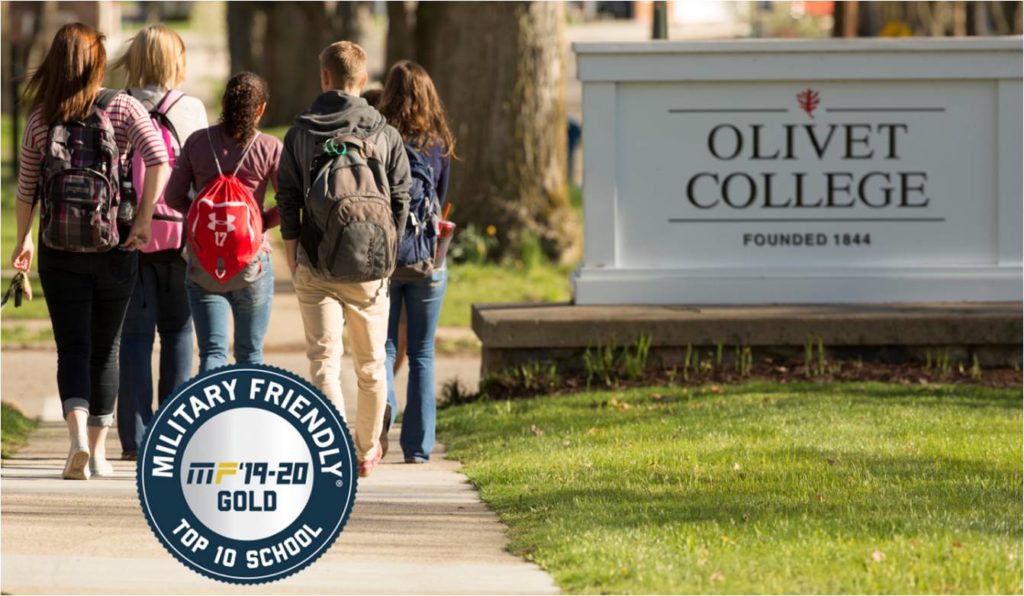 Olivet College has been designated as a 2019-2020 Top 10 Gold-Level Military Friendly® School by Victory Media, ranking third in the category of private schools not offering a doctorate degree. Military Friendly® serves as a standard to measure an organization's commitment, effort and success in creating sustainable and meaningful benefit for the military community.
The designation is awarded to the top colleges, universities, community colleges and trade schools in the country that are doing the most to embrace military students and to dedicate resources to ensure their success both in the classroom and after graduation.
"The tremendous courage soldiers risk deserves our lasting gratitude. As our veterans return, it is our goal to align ourselves with the programs and support designed to help these men and women make the most of the educational opportunities Olivet College has to offer," said Leslie Sullivan, registrar and VA certifying official. "What we receive in return from their experience can only be perceived as valuable."
OC Dedicated to Student-Veterans
Olivet College recognizes and honors the sacrifices that U.S. service members make in the defense of our nation. The college is dedicated to assisting veterans, guardsmen, reservists and others receiving U.S. military benefits in making a successful transition to the college community. The Olivet College Veteran Scholarship for veterans, active military members and their families equals 50 percent of tuition costs. In addition, the student services office assists veterans, active duty military students and dependents of veterans with certification, registration and financial aid. Further, the campus is home to a support organization for veteran and active duty students and their families.
Learn more about Olivet College's service to military students, or connect with the Office of Admissions at 800.456.7189 or admissions@olivetcollege.edu.