Blog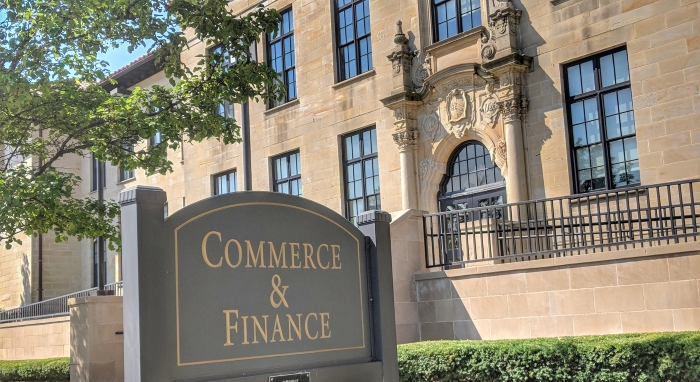 Detroit Mercy recently received a $6.1 million estate gift to endow a new chair in the College of Business Administration  (CBA). This is the largest single gift in the history of University of Detroit Mercy.
When he died in 2016, Arnold Jarboe '54 left his bequest to establish the Arnold Jarboe Chair in Business Administration in the College of Business Administration. Jarboe was an attorney for the Social Security Administration.
"This extraordinary and large gift by our unassuming alumnus, Arnold Jarboe, is the best affirmation that he truly lived the Jesuit values he learned as a University of Detroit student," said Detroit Mercy President Antoine M. Garibaldi, Ph.D. "Mr. Jarboe's generous endowment will make it possible for generations of students and faculty at Detroit Mercy to receive and deliver, respectively, a high quality education in Business and leadership."
Joseph G. Eisenhauer, dean of the College of Business Administration, has appointed Evan A. Peterson '06, '09, a lecturer in Business Law, to serve as the first Jarboe Chair.
"I am deeply grateful to Arnold Jarboe for his remarkable estate gift to the College of Business Administration and profoundly honored to have been chosen for this prestigious appointment," Peterson said. "Through this gift, the College of Business Administration will continue to enhance its reputation as a national leader in providing students with innovative, cutting-edge business programs."
Peterson holds B.S., J.D., and MBA degrees from Detroit Mercy, and a Ph.D. in Management from Walden University. A licensed attorney who has practiced law in Michigan, Peterson also serves as director of Undergraduate Business Programs and co-director of the Honors Program. Since joining the University full-time in 2014, he has helped create a minor and a concentration in Business Law and published more than a dozen scholarly articles in professional journals. In addition, he has actively engaged students as co-authors on many articles and research papers.
The Jarboe Chair will become part of the CBA's Center for Practice & Research in Management & Ethics (PRIME), which Peterson will serve as director. The PRIME Center will offer enhanced opportunities for Detroit Mercy business students to interact with leading business executives and thinkers, and develop a number of activities and scholarship endeavors, including the following:
Creation of a speaker series that brings nationally prominent leaders of businesses, nonprofit agencies, educational institutions and governments to campus for presentations.  These executives and entrepreneurs will share their expertise and practical ideas with students and faculty, which will help ensure that CBA academic programs and research are relevant to the real world.
Expansion of experiential learning and leadership opportunities for students in business.  These include hands-on coursework, such as the Integrated Field Project, in which MBA students serve as business consultants to nonprofit organizations on live case projects; service-learning projects, in which students use the skills developed in the classroom to benefit the community while gaining practical experience; internships, through which regional employers can hire an energetic labor force while students gain resume-building professional experience and income; leadership workshops, such as those offered by our Center for Social Entrepreneurship; and teamwork projects, in which students work collaboratively with diverse colleagues to solve managerial problems.
A student-run journal that solicits, edits, publishes and distributes research from around the nation on topics relevant to the PRIME Center mission. Detroit Mercy students will serve as the editors and peer-reviewers of submissions from students at other universities, helping them develop their research into publishable form. In this manner, the PRIME Center will serve as a resource for enhancing management and ethics education nationwide.
Professional research on Management and Ethics will be conducted by PRIME Center affiliates, including Fr. Gerald Cavanagh, S.J., the Charles T. Fisher III Chair of Business Ethics, who is recognized nationally as a founder of the business ethics field. The Center will share this research at professional conferences and publish it in leading journals for the benefit of scholars around the world.
According to Eisenhauer, "the activities of the PRIME Center will expand both academic and professional opportunities for students, and ensure that we maintain our leadership position both regionally and nationally in management and ethics."
Future plans for the PRIME Center include a Behavioral Dynamics Lab, in which teamwork and leadership are studied first-hand through audio and video recording of group interactions and remote conferencing. Other centers of excellence in the College of Business Administration include The Center for Social Entrepreneurship, America's Business High School, The Financial Markets Lab and Institute for North Korean Studies.
The College of Business Administration's accreditation by the Association to Advance Collegiate Schools of Business (AACSB) places it among the top 5 percent of business schools in the world.
In addition, the College's graduate and undergraduate Management programs are consistently ranked among the nation's top 25 by U.S. News & World Report.
To learn more about Detroit Mercy's College of Business Administration, click here.