Blog - Category: Independent Alumni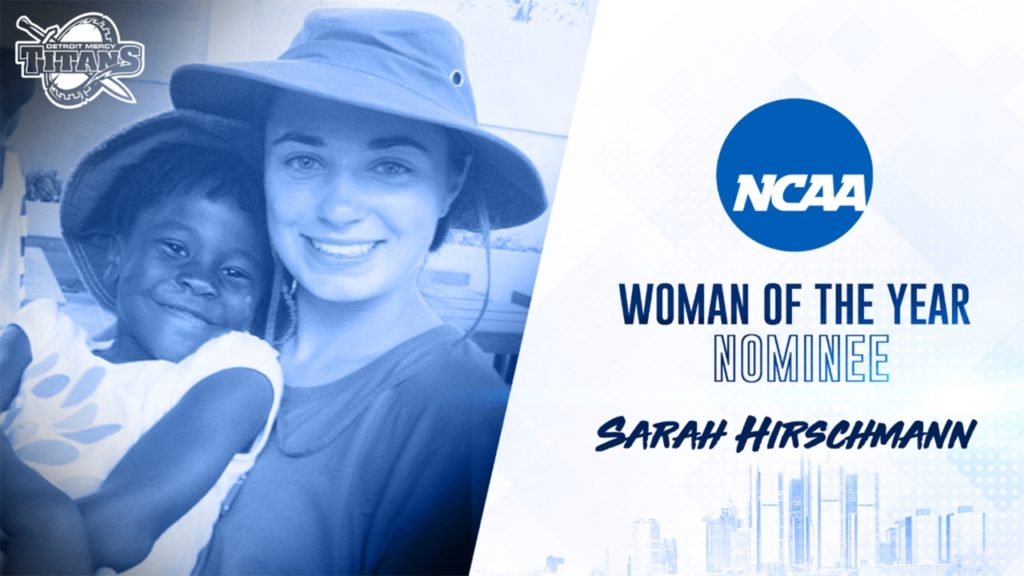 Sarah Hirschmann, the 2020 University of Detroit Mercy valedictorian and former women's soccer goalie, just earned another impressive accolade.  She's a nominee for the 2020 NCAA Woman of the Year Award.
The award was established in 1991 to recognize graduating female student-athletes who have exhausted their eligibility and distinguished themselves in academics, athletics, service and leadership throughout their collegiate careers.  The NCAA Committee on Women's Athletics will name the 2020 NCAA Woman of the Year this fall.
Sarah graduated from Detroit Mercy with a Bachelor of Arts in Literary Arts in Primary Education, specializing in Language Arts with a minor in Leadership, with a 3.97 GPA.  She was a member of the women's soccer team from 2015-18, a four-year member of the Detroit Mercy Athletic Director's Honor Roll and a three-time member of the Horizon League Fall and Spring Academic Honor Roll.
Away from athletics, she started a non-profit group, volunteered and played a key role in a number of University events.
In 2015, Sarah started "One Kid At A Time", a non-profit organization sponsoring the education of two students in Kenya, and distributing funds throughout Detroit.  She also spent two summers with the International Volunteer Headquarters (IVHQ), teaching children ages 1-16 in Nairobi, Kenya and Faridabad, India.
Locally, Sarah volunteered with Ford Community Corps Partnership, working at Detroit Public Schools with fifth graders and students with behavioral disabilities to improve mathematics and social skills through educational card games.  In addition, she worked with the Zoe Counseling Services of the Detroit Public Libraries, tutoring students in and out of foster care and those who have fallen behind grade level and need extra help.
One of her big efforts on campus saw her take part in the National Jesuit Student Leadership Conference (NJSLC), where she helped lead a committee of 20 students to create the conference with Detroit Mercy serving as host for the first-time ever in 2019.  Sarah also was part of the Ignatian Family Teach-In For Justice (IFTJ), a national social justice conference in Washington, D.C., where students gather from around the country to learn about more ways to fight injustice and advocate for themselves and others.
Sarah is indisputably a model scholar-athlete.  Her commitment to excellence in the classroom and on the field is strong and her dedication to her community–both locally and around the world–is unwavering.  It's an outlook that's prevalent at the University of Detroit Mercy and Michigan's top 14 private colleges and universities.  Purposefully smaller, the colleges and universities pride themselves on helping students follow their own path, engage in the world around them, and find their passion. They emphasize community over crowds and a spirit of togetherness and cohesion.
Be bold. Be different. Go independent.