Blog - Category: College Athletics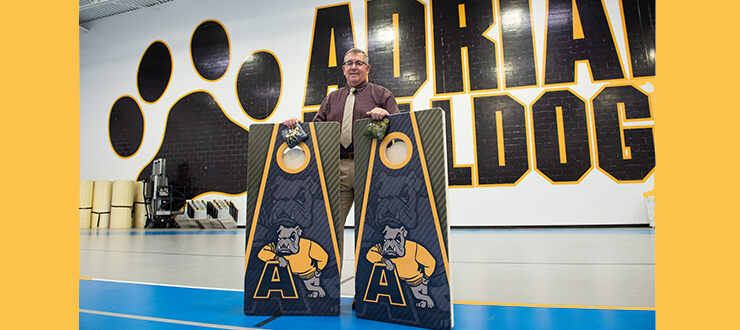 Originally posted at http://adrian.edu/news/adrian-college-announces-first-intercollegiate-varsity-cornhole-team-in-mic
Tossing a bag into a hole has become extremely popular in backyards and tailgating events across the nation as the game of cornhole has evolved into a sport. Its players have also advanced, and now there are competitions at the collegiate and professional levels. The increased enthusiasm for the game has caught the attention of Adrian College and prompted the Bulldogs to create a collegiate cornhole program, scheduled to begin competing in the fall of 2022.
"Adrian College was recently recognized by U.S. News and World Report as the number one Most Innovative College in the Midwest, and this program reflects that honor," Adrian College Athletic Director Mike Duffy said. "People will undoubtedly say, oh my goodness, there they go again with another cool idea at Adrian. Well, we relish these reactions because we embrace innovation that distinguishes Adrian College in the marketplace and appeals to student demand. This is no different than bass fishing, and several other unique initiatives in recent years that have proven to be so successful in attracting great students." Adrian College won the 2021 bass fishing national collegiate championship.
Duffy expects the new co-ed sports program will attract a lot of students with the Bulldogs' players having an opportunity to compete on a national stage against some of the greatest amateur and professional players in the world.
"It's big across the country, and there is some local talent," Duffy said of the sport. "I expect we'll bring in 40 to 50 students with this new program."
He added that cornhole is an inexpensive program to run with limited equipment and travel costs. The Bulldogs already have a main sponsor backing them with Killshots Cornhole, a national cornhole equipment manufacturer located in Adrian, donating custom bags and boards.
The Bulldogs do not need to build a facility for the program, at least right away, Duffy said, "Because our athletic facilities are beautiful and we have plenty of existing space to field a great team." Duffy said Killshots is also looking into building a facility in Adrian to host tournaments that the Bulldogs will be able to utilize as well as the Adrian community.
"College/Community partnerships are very important to the College," Duffy said, "everyone wins when we can find ways to work with our community."
Adrian College joined the American Cornhole League (ACL) and would play in sanctioned tournaments across the nation. The ACL, formed in 2015, would pit Adrian College against teams from NCAA DI to DIII institutions. The National College Cornhole Championship's open format allows any size college to participate.
There is an opportunity to add additional sponsors as the cornhole team will wear uniforms similar to the bass team's with multiple program-supporting businesses featured on the jerseys.
Adrian College's athletic department will hire a coach in the next month or two and begin recruiting athletes to be ready to start competing by next Fall.
This year's national championship is in Myrtle Beach, S.C. the weekend of December 31st to January 2nd. The event will be featured on ESPN broadcasts.
In cornhole competition, players take turns throwing bags filled with corn kernels or resin at a raised platform board with a hole in the far end. A bag in the hole scores three points, while one on the board scores one point. Play continues until a team or player reaches or exceeds 21 points.
Duffy said the Bulldogs are taking this sport just as seriously as any of the others.
"We'll treat it no different than football, baseball or any other sport," Duffy said. "The end goal is we are trying to build a great experience for student-athletes while we grow our academic departments."
Adrian College added 12 new academic programs last year to help increase the number of students on campus. Frank Hribar, Adrian College Vice President of Enrollment and Student Affairs, said the addition of this newest sport will definitely add to the overall experience at the college.
"There aren't a lot of other colleges or universities that offer such a wide variety of academic and athletic programs," Hribar said. "This new sport should receive a lot of attention and get additional students looking at Adrian College who otherwise may not have had an interest in coming to this area."
The addition of the cornhole program increases the number of the Bulldogs' sports teams to 50.
For more information about Adrian College and the programs it has to offer, visit Adrian.edu.
Adrian's new athletic venture is a reflection of the many ways Michigan's top 14 independent colleges and universities set themselves apart from bigger public institutions. They do this by encouraging students to forge success by following their own path. The colleges are smaller and emphasize community over crowds. Often less expensive than public institutions, the independents boast higher four-year graduation rates and smaller class sizes for a truly unique and affordable experience.
Be bold. Be different. Go independent.