Archive for
There's a great line for anyone who plays or appreciates music in the '90s movie "Mr. Holland's Opus."
"It's about heart. It's about feelings. Moving people and something beautiful," Glenn Holland, a high school music teacher, tells his class.
"It's not about notes on a page. I can teach you notes on a page. I can't teach you that other stuff."
Chuck Livesay taught both for 41 years at Spring Arbor University, directing choirs at the college and touching countless lives. Only about a quarter of the students in his choirs actually majored in music, but Livesay struck all the right chords.
"I really can't think of anything else I would be doing, other than music. It's been a passion," Livesay told SAU in MLive.
So, as they did for the Richard Dreyfuss character in "Mr. Holland's Opus," old students of Chuck Livesay came from near and far for his last concert.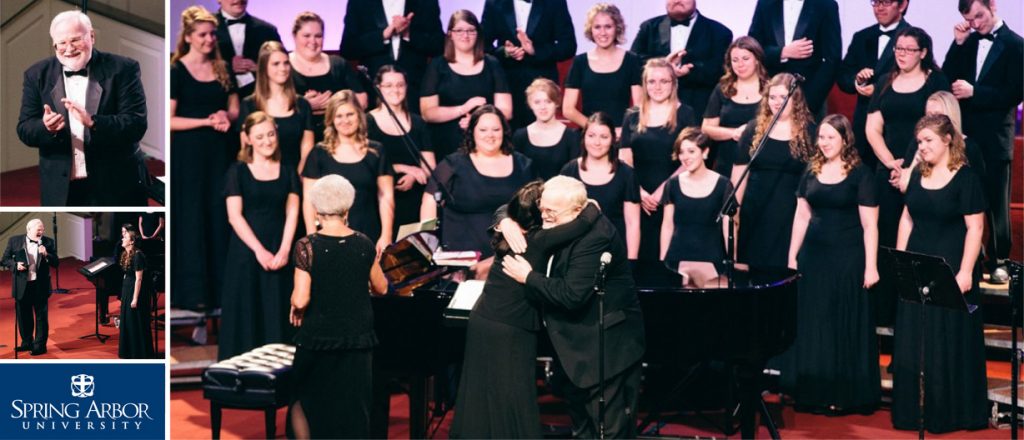 Seventy-one alumni came from as far as Texas for the last performance in May, which Livesay called a highlight of his career.
All came up and sang two songs at the end of the concert. They knocked it out of the park after all those years.
What made Livesay different? Why would so many want to thank him one last time?
"(Students said) we could tell as you worked with us that you were very passionate about the music. It really touched you in a deep way and it helped to touch us in a deep way," Livesay said.
Passion. Community. Dedication. Bonds that last a lifetime. That's the difference at Spring Arbor University and Michigan's other top 15 private colleges and universities.
Livesay only planned to stay at Spring Arbor for two years. He made it a career. That's not unusual because it's easy to fall in love with Spring Arbor and the other independents.
Unlike big state schools, class sizes are small and taught by incredible faculty who help students forge their own path.
They have a deep and committed network of alumni who help after graduation. It's an experience that simply isn't available at traditional universities.
And despite what you may have heard, independents are often less expensive and boast higher four-year graduation rates than four-year institutions.
Be bold. Be different. Go independent.