Archive for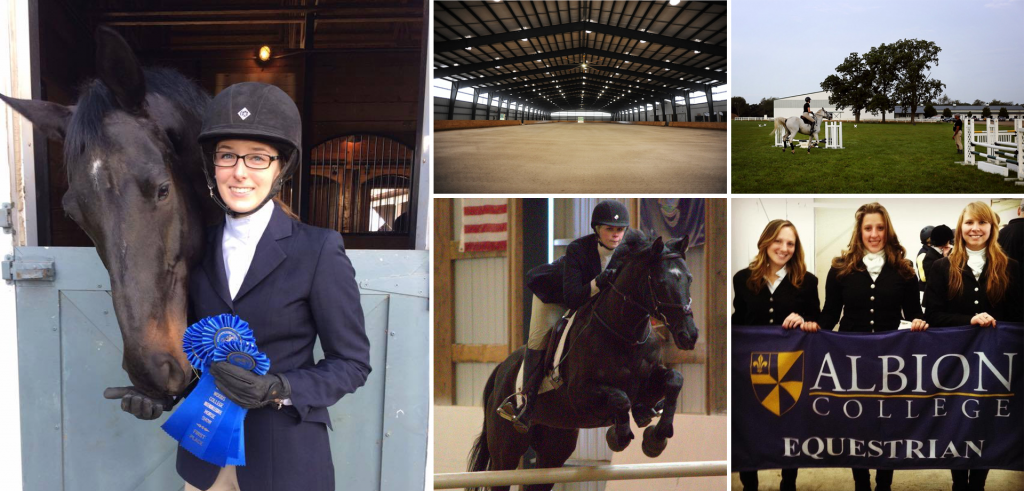 College is where dreams, no matter how fanciful, find a way.
So more than a decade ago, when an Albion College student wrote a thesis with a crazy suggestion — hey, wouldn't it be great if there was a place to board horses near campus? — she wasn't laughed off college.
Instead, her idea was embraced, massaged and worked until it became reality. The super-cool Nancy G. Held Equestrian Center opened in 2004. The $1.8 million facility accommodates 79 horse stalls.
Now, it's expanded again, as crews put finishing touches on a new indoor area, the largest of any kind among colleges nationwide. About 200-1,000 people are expected each weekend for competitions.
"It started as a joke and then turned into something more serious," Randi Heathman, a 2003 Albion graduate, told WWMT-TV 3.
"My thesis projected that we would get approximately 15 new students per year that we wouldn't get without this here and I think in the first year we got 30. It's been a substantial enrollment booster ever since the day it opened."
What's even more remarkable: Albion College doesn't even offer an equestrian degree. But administrators green-lit the project because they saw students had passion. And, as often the case in life, if you have passion, almost anything is possible.
"Albion prepares students for whatever career they want to go into," Heathman, who is now the college's equestrian adviser, told MLive.
"We want students to come here to be academically challenged and to continue or start riding if they love to do so. Those who want a career in equine usually get there one way or another."
The project probably wouldn't have happened at big state schools. But there's unique bond between students and faculty at Albion and Michigan's 15 independent colleges and universities.
Faculty know students because they actually teach classes, rather than sloughing them off on graduate assistants. Professors not only help students chart their own path and pursue their passion, but encourage them to take a wild idea, tie it to a string and see if it can fly.
Proudly different, purposefully small, independent colleges teach students to say "why not?" rather than "why"?
Often less expensive than public institutions, the independents boast higher four-year graduation rates for a truly unique and affordable experience.
Be bold. Be different. Go independent.