Archive for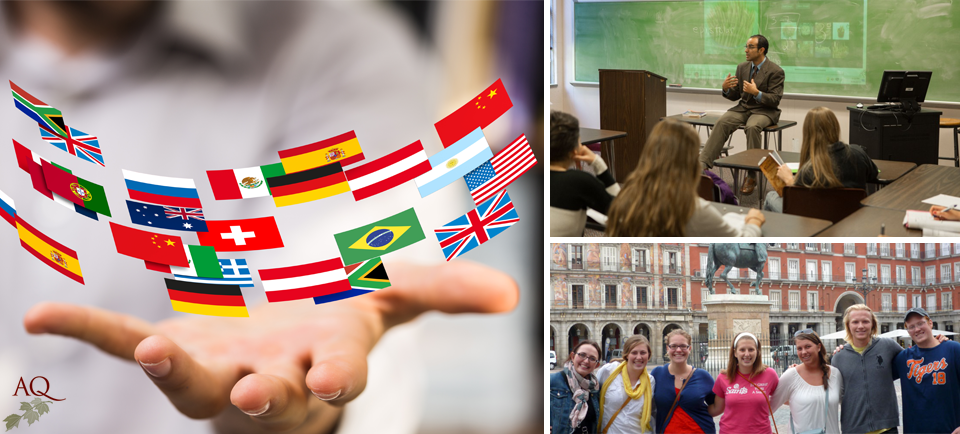 Le monde se rétrécit
That's French, of course, for "the world is shrinking." Or, as they say in German, "Die Welt schrumpft."
No matter how you say it, globalization is changing how business is done — and how colleges prepare students for 21stcentury careers. Which is why Aquinas College this month announced it's offering a bachelor of science degree in translation and interpretation this fall, making it the only college in Michigan with the program.
The program — which will be offered in Spanish, French and German — recognizes that business has taken an international flavor. Jobs for interpreters are expected to increase 29 percent over the next eight years, according to the Bureau of Labor Statistics. The government group says the growth is expected to be "much faster than average" for other fields.
"We want to give students degrees that are marketable and right now, the field of translation and interpretation is in high demand and the forecast is that this is going to be a continuing trend," said Marcus Romero, an associate professor of Spanish at Aquinas.
"It really does open you up for a lot of possibilities. … There is a myriad of job opportunities translating and interpreting for social services, legal institutions, medical institutions."
Aquinas' program not only will teach language but also cultural knowledge and unspoken communication that is vital to understanding.
It's no coincidence Aquinas is the first to offer the degree. Like Michigan's other 15 top private colleges and universities, the college prides itself on being unique, agile and tailoring their offerings to students' needs.
"As educators, it's important for us to constantly evaluate the job landscape and provide degrees that are rooted in the liberal arts and needed in the workforce," Romero said.
National leaders in education, the independents boast graduation and employment rates that often exceed big public schools. Classes are taught by award-winning faculty who are experts in their field. Because class sizes are so low, professors form tight bonds with students and help chart their paths.
Committed to community, the colleges have deep networks of business executives and alumni who mentor students.
Often less expensive than public schools, the independents offer a truly unique and affordable experience that simply doesn't exist at big state schools.
Be bold. Be different. Go independent.