Archive for

Somewhere, in that rare, elusive air between nerd and cool is peak awesome. Call it alchemy or old-fashioned magic, but sometimes, mixing radically different mediums captures pop perfection.
It happened with Chocolate Chip Cookie Dough Pop Tarts. And it happened again at the end of football season at Alma College, when — prepare yourselves — bagpipes met old-school Nintendo.
The Alma College Pipe Band and Winter Guard joined the school's legendary Kiltie Marching Band for their annual indoor concert. This year's concert featured themes from Super Mario Brothers, the Legend of Zelda and other 64-bit hits. It was retro wonderful. Princess Peach even made an appearance. And bagpipes. Lots of bagpipes.
A little background: Bagpipes are a big deal at Alma. They're played when first-year students step on campus and walk through a gauntlet of faculty members at Welcoming Convocation. They're played at sports games and college traditions like Burns Dinners and Tartan Day.
And Nintendo? Well, duh.
"I chose this music because it was always with me growing up" says band director David Zurbe. "The more video games I played, the more that I realized what impressive music it was. This music needs to be heard by everyone, and I am excited about how fantastic the musicians are doing with it."
Making it even better: Students performed in full costume.
Offbeat selections aren't usual for the band. In 2014, it performed a selection of Van Halen hits.
Is it wacky? Maybe a little. More importantly: Why not? It's pretty darn amazing and a full heart container of fun.
That's the way they roll at Alma College and Michigan's 15 independent colleges and universities, where taking chances, mixing stuff up and letting ideas take wing is a way of life.
Purposefully smaller, the colleges offer a vastly different experience than big public schools. Class sizes are small. Award-winning professors actually teach classes, get to know students and help them chart their own path to rewarding careers.
Often less expensive than public institutions, the independents boast higher four-year graduation rates for a truly unique and affordable experience.
Be bold. Be different. Go independent.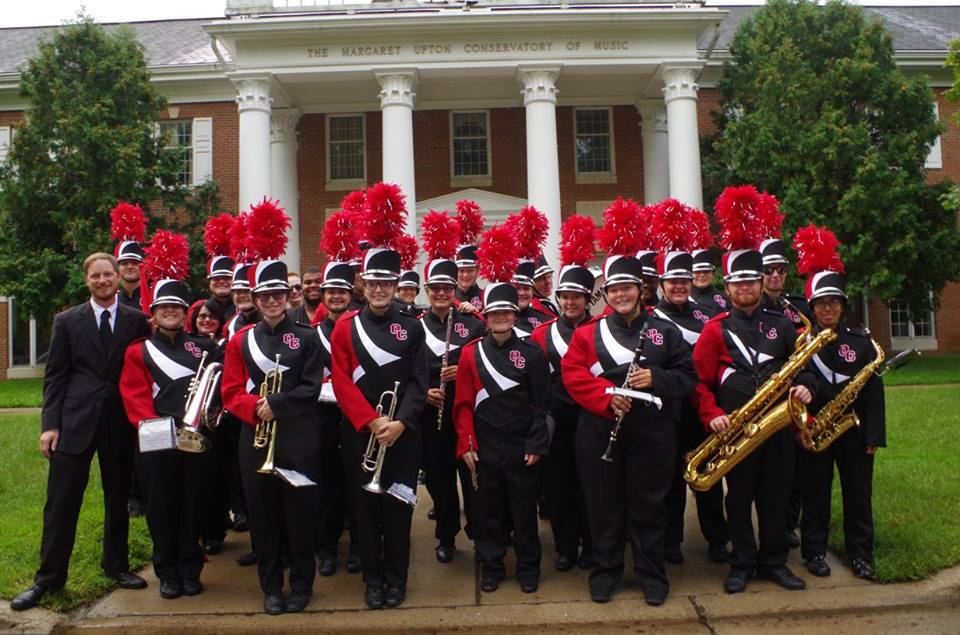 This football season, when the Olivet Comets hit the field, fans won't be the only ones making noise.
For the first time in more than 30 years, the college's marching band will as well.
Call it sweet harmony or simple good fortune, but the band was reformed as a part of a conscientious effort to increase the sense of community at the Michigan school, says director of bands Jeremy Duby.
"The marching band really is the center of student life and school spirit, and so it really adds a whole other atmosphere to the football game," he recently told the Detroit Free Press.
"It's a much bigger way for us to support our team and to get the entire community involved and make that game a community event every Saturday."
The band is starting this year with 25 students and will play at all football games, campus events and a New Year's Day parade in Paris, France. Duby predicts it grow to about 100 members within five years — and become an ingrained part of life at Olivet.
"This is a great part of the college experience," says an Olivet College alum who was a member of the band in the 1970s.
The move is part of a trend among smaller colleges, including those at Michigan, to invest in athletic facilities, clubs and other extracurricular activities. That's because big public universities don't have a monopoly on sports — or fun.
Indeed, that's one key difference between big universities and Michigan's top 15 independent colleges and universities.
Class sizes are small enough so students not only know their professors, they form lifetime bonds. Professors pride themselves on working closely with students to help them forge their own path, buck conventional wisdom and find a new way.
It's an experience that simply isn't available at traditional universities. And despite what you may have heard, independents are often less expensive and boast higher four-year graduation rates than four-year institutions.
Be bold. Be different. Go independent.