Archive for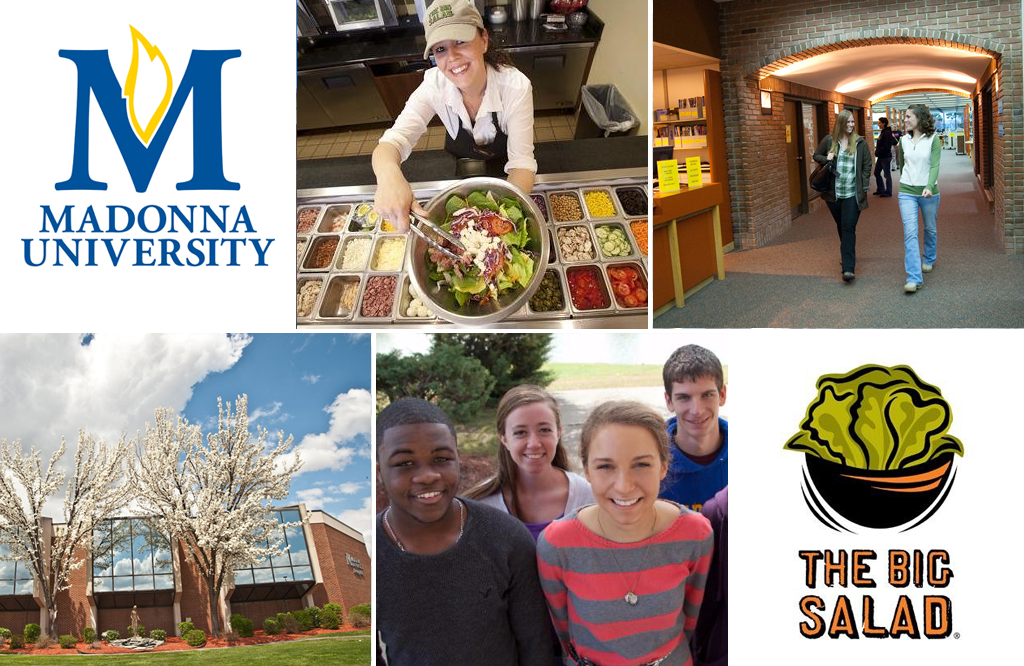 Lettuce be real: College isn't all book learning.
Awful pun, we know. But it's true: No matter how awesome the professors or how much you cram, there's only so much you can learn in the classroom.
Sometimes, you need to go into the kitchen. Or the salad bar.
In a unique melding of academic and real-world learning, Madonna University is teaming with The Big Salad for a semester-long project. The "Seal the Deal" project involves creating, designing and marketing a menu item for the restaurant chain.
Four teams of students meet in the classroom and at The Big Salad in Novi. Next week, they're beginning to market their creations and a winning team will be crowned on April 11.
"Students are showing great enthusiasm for this opportunity to put into practice what they are learning in the classroom about marketing," said Nidhal Bouazizi, an assistant professor of International Business who is handling the project.
It's not unusual for Madonna. The university typically partners with businesses for projects that run in three semester-long stages, said Cleamon Moorer, dean of Madonna's School of Business.
"It's all contingent on what the client wants," he told Crain's Detroit Business.
"If they want marketing research, we'll have our marketing classes do that for them and they'll be given the opportunity to implement what they find."
Is it unorthodox? Maybe a little. But it's also great fun, hugely beneficial and recognizes what worldwide industry leaders are beginning to recognize.
"Business needs real life training," said John Bornoty, CEO of Grosse Pointe Farms-based The Big Salad.
Doing whatever it takes is a hallmark of Madonna University and Michigan's top 15 private colleges and universities.
The schools pride themselves on not only providing a world-class education but preparing students for their chosen fields. A deep and committed network of alumni — along with award-winning faculty — are there to help students every step of the way as they forge their own path.
Class sizes are small. Community is cherished. It's an experience that simply isn't available at traditional universities. And despite what you may have heard, independents are often less expensive and boast higher four-year graduation rates than four-year institutions.
Be bold. Be different. Go independent.