Archive for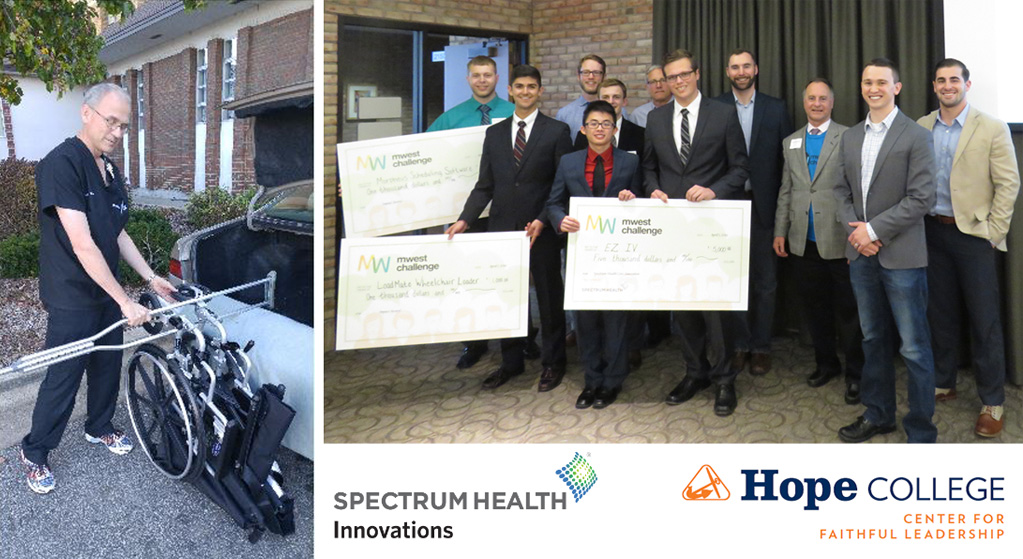 You never know what will spark your inspiration.
For Isaac Newton, it was an apple falling on his head. For physical therapist Joseph Ross, it was struggling to put a wheelchair into a car trunk and thinking, "wow, this is heavy."
But inspiration is one thing and innovation is another. And Ross, who works at Spectrum Health Center, knew just where to turn to lighten the load.
After experimenting by using a crutch as a lever, Ross took his germ of an idea to Hope College's Center for Faithful Leadership, an innovative program that pairs students with experts to bring awesome ideas to fruition.
A unique mentoring program, the center believes that college is as much about solving real-world problems as theoretical principles. It complements the classroom, pairs freshmen and sophomores with experts and stresses that productivity is integral to happiness.
In short, the program is about going to work.
So that's what four Hope College students did with Ross, the therapist with a fuzzy idea.
The result is LoadMate, which looks like a pitchfork but makes heavy lifting a breeze
"I can't say enough about how much I enjoyed working on this project," Brenden Merriman, a biomedical engineering major who worked on the project.
"Spectrum Health was always extremely helpful whenever we ran into a question we couldn't answer, and I think it's a great program they have set up with Hope College students."
The idea seems simple. But the real world applications could be huge. Ross wanted to develop the product to give freedom of movement back to some of his clients, who think twice about travel because of the prospect of lugging around a wheelchair.
"An elderly gentleman was able to load his wife's wheelchair into the back of his car with one hand while holding his cane in the other," Merriman said. "Seeing his excitement at being able to so easily do this simple task again for the first time in years was really touching."
The product isn't ready yet for market. But it won a $1,000 prize this year at MWest Challenge 2016, West Michigan's regional business plan competition.
And it's a great example of the unique spirit at Hope College and Michigan's 15 independent colleges and universities. They're proudly different, committed to human betterment and all about fostering lifelong bonds between their award-winning faculty and students.
All emphasize community over crowds and an ethos of cohesion that just doesn't exist at big state schools.
Often less expensive than public institutions, the independents boast higher four-year graduation rates for a truly unique and affordable experience.
Be bold. Be different. Go independent.