Archive for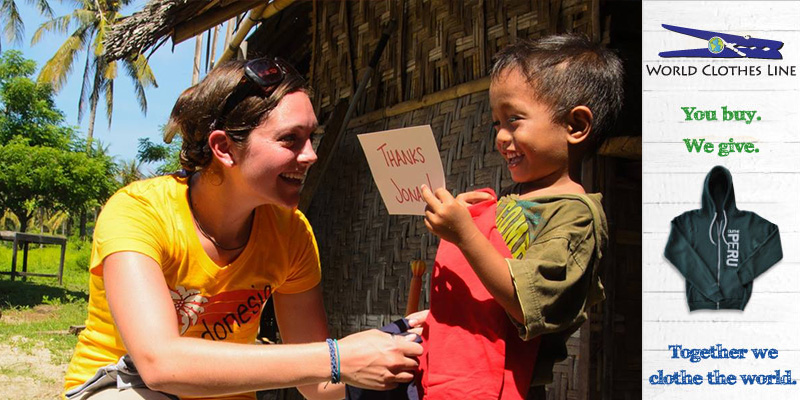 Mallory Brown went to college hoping to plan events. She left wanting to change the world.
She's well on her way.
Albion College helped Brown forge a unique path that combines business, social entrepreneurialism and global studies. She's the founder and CEO of World Clothes Line, which donates a shirt to the needy worldwide for each one her customers buy.
"I travel to impoverished areas around the world to personally deliver new clothes to those who need them most," said Brown, who graduated in 2008 with degrees in French and economics from Albion's Carl A. Gerstacker Institute for Business and Management.
"Albion provided me with the skills to take on every aspect of business. As founder and sole owner of a new company, I must understand and manage all moving parts. From marketing to economics to accounting to internships, the range of courses and experiences prepared me for such a challenge."
Brown will tell her story Thursday at TEDxDetroit, the world-renowned symposium of ideas, optimism and collaboration about technology, entertainment and design. The all-day event is at the Fox Theatre in Detroit.
She grew up in Farmington Hills, Michigan, and was in Albion for event planning until her life took a detour. Brown went on a study-abroad program in Paris and loved it. She worked with her advisers to integrate her passions — travel, business, social justice — into a career track.
Her dream didn't coalesce until after she graduated and backpacked in Asia and South America. She was dumbfounded by how many people lacked good clothes. After spells in other industries, she launched the World Clothes Line in 2010 when she was 24. Flash forward five years and she's delivered clothes to people in need in 16 countries.
"The incredible preparation from Albion gave me the flexibility in my career to take chances, try new things, and take advantage of new opportunities," Brown says.
This January, she visited Haiti for three weeks, an experience she described as "incredibly emotional." This summer, it was an earthquake relief trip to Nepal.
Friendships made at Albion also helped her business. One of World Clothes Line's partners is CreateMyTee.com, which was founded by Albion alums Josh Fales and Nick Shelton.
That's the hallmark of an education at Michigan's top 15 independent colleges and universities.
The schools are guided by passion and community. Class sizes are small enough so students not only know their professors, they form lifetime bonds. Professors pride themselves on working closely with students to help them forge their own path, buck conventional wisdom and find a new way.
It's an experience that simply isn't available at traditional universities. And despite what you may have heard, independents are often less expensive and boast higher four-year graduation rates than four-year institutions.
Be bold. Be different. Go independent.