Blog
Who says February is the dullest month in sports? The Super Bowl may be over and March Madness is weeks away, but hard court action is tough to beat at Michigan's independent colleges and universities.
Small schools don't get the attention of big programs, but their basketball action is just as fierce and traditions are just as deep. The difference: Our fans are closer to the action and don't have to take out more student loans to fill the bleachers.
Consider: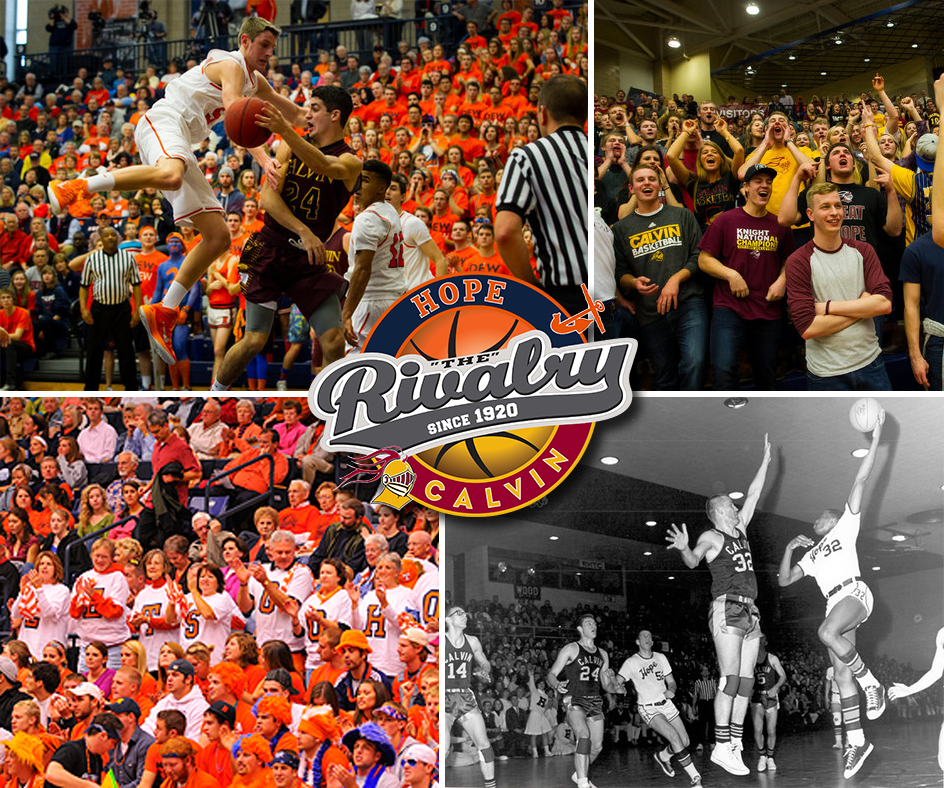 Awesome Rivalries
Calvin College and Hope College's men's basketball teams have been duking it for more than 80 years. The Flying Dutchmen of Hope hold a slight edge over the Knights of Calvin, with 98 wins to 91 as of January.
Don't take our word for it. In 2007, ESPN called it one of the best-rivalries in college basketball, writing it's "the closest thing to Duke-North Carolina as you can imagine."
The rivalry even has its own website: calvinhope.com
The two play in the nation's oldest collegiate sports conference, the Michigan Intercollegiate Athletic Association. It's so old Grover Cleveland was president when Olivet College founded the conference in 1888.
Calvin and Hope have dominated since. Calvin won the 1992 and 2000 NCAA Division III championship, while Hope was national runner-up in 1996 and 1998.
The rivalry is so spirited that even its origins are in question. The first game was in 1917. But Calvin loyalists say it doesn't count. That's because a loosely organized Calvin students challenged the Hope team.
For their initiative, Calvin was trounced 55-8 and barred from commencement ceremonies by administrators. Three years later, the two schools played their first official game. Since then, it's become one of the hottest tickets in west Michigan. How hot? A Hope College president supposedly once defined an atheist as "someone who goes to a Hope-Calvin basketball game and doesn't care who wins."
Kalamazoo College and Olivet College also have an intense rivalry. It grew so testy that it became national news in 2001.
It began with a buzzer beater. Kalamazoo thought they won. Refs called off the basket. The Hornets asked for a video review. Bingo: They were declared the winners.
Olivet protested to the conference, which declared the Comets the winners. Kalamazoo protested again to the NCAA, which again gave them the game.
Top-Flight Talent
Who says top talent goes to big public schools, Baby? Not Dick Vitale, the ESPN college basketball guru.
He was the University of Detroit-Mercy's head coach for four years in the 1970s before leaving for the Detroit Pistons. Dickie V led the Detroit Titans, #DetroitsCollegeTeam, to the Sweet 16 and is such a legend that UDM named its basketball court at Calihan Hall in his honor in 2011.
Several current and former NBA players count themselves as UDM Titans, including NBA Hall of Famer Dave DeBusschere, Seattle Supersonics legend Spencer Haywood and current Sacramento Kings point guard Ray McCallum Jr.
UDM doesn't have a monopoly on former stars: Hillsdale College, for instance, has several players who are in European leagues.
Unmatched Atmosphere
Adrian College, Hillsdale College and other colleges in recent years have invested millions of dollars in the past 15 years upgrading sports facilities, mascots and fight songs.
The result: A festive, raucous vibe that brings students and alumni together, adding to a unique sense of community that simply doesn't exist at big state schools.
College basketball is just one difference between big public institutions and Michigan's top 15 independent colleges and universities, where students forge success by following their own path. The colleges are smaller and emphasize community over crowds. Often less expensive than public institutions, the independents boast higher four-year graduation rates and smaller class sizes for a truly unique and affordable experience.
Be bold. Be different. Go independent.