Blog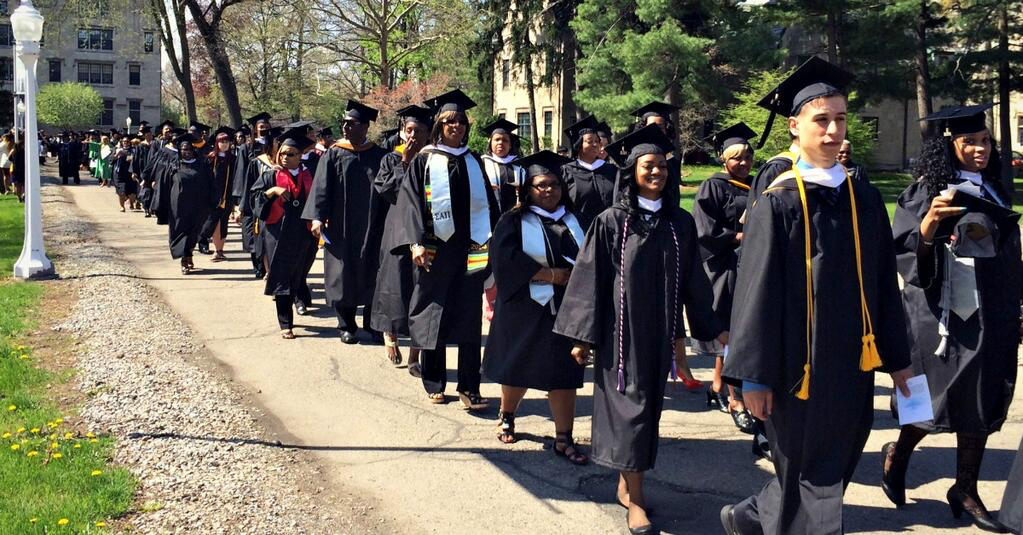 It's spring and flowers aren't the only thing in bloom. So are big ideas and promising futures.
All will be on display during commencement ceremonies at Michigan's top 15 colleges and universities. Before graduates head out to chart their own paths in the world, they'll hear insight from speakers who've blazed trails before them.
Like the colleges themselves, the commencement speakers are an eclectic and impassioned mix of the best and brightest from the worlds of business, theology, journalism, law and politics.
U.S. Sen. Gary Peters kicked off the list of luminaries on April 18, by telling Alma College graduates to make "democracy work" by participating in public speaker. The 1980 graduate of Alma received an honorary degree and stressed that graduates need to "keep the promise of the American dream alive."
On May 3, William K. Hall is expected to share his decades of wisdom in business at Adrian College. Respected worldwide as an entrepreneur, Mr. Hall is a former Adrian resident who is founder and CEO of Procyon Technologies, an Illinois company that consults healthcare companies. Over the years, Mr. Hall has been a senior executive or board member of some of America's biggest companies, including Fruit of the Loom and Cummins Inc.
Less than a week later, on May 9, two prominent business executives will don caps and gowns and address graduates on either side of Michigan. Both have unique perspectives as minority women.
Candace Matthews is addressing Aquinas College, less than a year after she was named regional president of the Americas for Amway. The job puts her in charge of overseeing the direct mail sales giant's operations in North and South America. Just a few years ago, she was in charge of the American division of makeup giant L'Oreal USA.
Across the state, Lizabeth Ardisana will speak to graduates of Marygrove College in Detroit. She is co-founder of ASG Renaissance, a technical and communications firm, and a trailblazer: The first woman elected to chair the Michigan Hispanic Chamber of Commerce and the first minority-owned service supplier to receive Ford Motor Co.'s Q1 award.
On June 14, Pulitzer Prize winner David Finkel will bring his perspective as a war correspondent and Middle East expert to Kalamazoo College. The Wall Street Journal reporter won journalism's biggest prize for his work on Yemen and is the author of the Iraq war book "The Good Soldiers."
Other commencement speakers include religious leaders, academics, lawmakers and judges. They're a diverse group, to be sure, but what else would you expect from Michigan independent colleges and universities.
| College | Date | Speaker | About Speaker |
| --- | --- | --- | --- |
| Adrian College | 5/3 | William K. Hall | Former resident of Adrian, Michigan is a general partner of Procyon Advisors LLP |
| Albion College | 5/9 | Faith Fowler '81 | Senior Pastor, Cass Community United Methodist and Executive Director, Cass Community Social Services |
| Alma College | 4/18 | Sen. Gary Peters '80 | U.S. Senator |
| Andrews University | 5/3 | Humberto M. Rasi | Special Projects, Department of Education, General Conference of Seventh-Day Adventists |
| Aquinas College | 5/9 | Candace Matthews | Regional President of the Americas for Amway |
| Calvin College | 5/23 | Mark Labberton | President, Fuller Theological Seminary |
| Hillsdale College | 5/9 | Michael Ward | Senior Research Fellow, Blackfriars Hall in the University of Oxford; Author |
| Hope College | 5/3 | Tim Schoonveld | Assistant Professor of Kinesiology and Athletics Co-Director, Hope College |
| Kalamazoo College | 6/14 | David Finkel | National Enterprise Editor, Washington Post; Pulitzer Prize-winning writer and war correspondent |
| Madonna University | 5/10 | Leonard Charles Suchyta | Former Trustee and Chairman at Madonna; Special Counsel, Hunton & Williams |
| Madonna University | 5/10 | Archbishop Allen Vigneron | Archbishop of the Detroit Archdiocese |
| Marygrove College | 5/9 | Lizabeth Ardisana | Chief Executive Officer, ASG Renaissance |
| Olivet College | 5/16 | Allison Ullrich | Student from the graduating class |
| Siena Heights University | 5/2 | Caity Benham & Lacie Hill | Student from the graduating class – College of Professional Studies |
| Siena Heights University | 5/3 | Alisha Bond | Student from the graduating class – College of Arts and Science |
| Siena Heights University | 5/9 | Matt Konopinski | Student from the graduating class – Graduate College |
| Spring Arbor University | 5/16 | Tim Walberg | U.S. Representative |
| University of Detroit Mercy | 5/9 | Judge Damon J. Keith | Senior Judge for the United States Court of Appeals for the Sixth Circuit |
Purposefully small, these independent schools are home to free thinkers whose ideas are allowed to blossom in ways that aren't always possible at big institutions. Often less expensive than public institutions, the independents boast higher four-year graduation rates and smaller class sizes for a truly unique and affordable experience.
Be bold. Be different. Go independent.